Court tosses follow-up to Lafayette frigate claims
Less than two years after winning a landmark 630 million euro (US$875 million) lawsuit against a French defense contractor over the scandal-plagued sale of Lafayette-class frigates to Taiwan in the 1990s, an arbitration court last week shot down Taipei's hopes for a second win in a related case, citing a lack of evidence.
In its follow-up claim, Taipei had filed claims of 45.5 million euros, including interests and prosecution fees, against DCNS, the maker of the frigates, over a 1996 spares supply contract for the six multi-role stealth frigates.
A Basic Ordering Agreement signed on May 20, 1996, stipulated that Taiwan would be entitled to a 15 percent reduction if French agents were caught paying commissions to middlemen.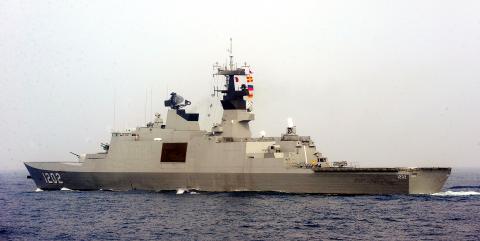 A Lafayette-class guided missile frigate is pictured on Jan. 26, 2010.
Photo: Chang Chia-ming, Taipei Times
However, an arbitration tribunal under the International Chamber of Commerce cut the compensation to 3 million euros, citing a lack of evidence to support Taiwan's full claims against DCNS, then a state-owned entity known as Direction de Constructions Navales, Defense News reported.
The Ministry of National Defense had set aside NT$75 million (US$2.6 million) in this year's defense budget to fund the new litigation, which it filed on Oct. 12 last year.
The ruling follows a similar one handed down on June 9 last year, in which Thales, a company then known as Thomson-CSF, which supplied the electronics on the frigates, and the French government were ordered to pay Taiwan 170 million euros and 460 million euros respectively for illegal kickbacks and commissions in the initial US$2.8 billion Bravo deal signed in 1991.
Aside from hampering access to critical technologies to Taiwan, the Lafayette scandal also claimed the life of Yin Ching-feng (尹清楓), a naval captain who is believed to have been murdered in December 1993 as he was about to blow the whistle on colleagues who were receiving kickbacks in the deal.
Thomson-CSF's agent in Taiwan, Andrew Wang (汪傳浦), fled the country soon after Yin's body was found floating near Suao (蘇澳).
Comments will be moderated. Keep comments relevant to the article. Remarks containing abusive and obscene language, personal attacks of any kind or promotion will be removed and the user banned. Final decision will be at the discretion of the Taipei Times.