Labor activists protest over loan dispute
LIFE SAVINGS: Protesters said they would launch more intense rallies — including throwing eggs and cow droppings — until a resolution is found
Labor activists and laid-off workers staged another protest yesterday against the Council of Labor Affairs' (CLA) NT$20 million (US$688,000) budget for suing workers over a disputed loan and vowed more intense action if the council does not withdraw the proposal.
Wearing masks of President Ma Ying-jeou (馬英九) and CLA Minister Pan Shih-wei (潘世偉), two activists outside the legislature shoveled sand over a model coffin with the word "life savings" written on it.
The protesters accused the council of trying to take away their life savings by suing them over disputed loans that, in their understanding, were given to them in place of their retirement payouts when their employers absconded 15 to 16 years ago.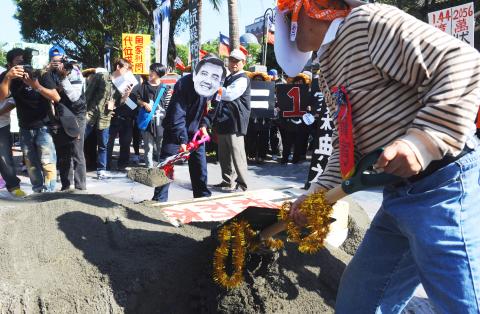 Members of an alliance of workers from closed-down factories and labor activists bury a mock coffin during a protest in front of the Legislative Yuan in Taipei yesterday, calling on lawmakers to eliminate the Council of Labor Affairs' budget for lawsuits over redundancy loans.
Photo: Lo Pei-der, Taipei Times
"Most of these workers had worked at Lienfu Textile Co — and other companies — for decades, but they were not given proper retirement payment when their employers ran away," Taiwan International Workers Association researcher Wu Yung-yi (吳永毅) said.
"The council intervened, saying it would pay the workers in the form of loans. It promised then that it would not ask the workers to pay them back, but would get their employers to repay the debt," he said.
However, 15 years later, the council has filed lawsuits against the more than 400 workers who received payments.
Although the council agreed in August to suspend the lawsuits for four months after repeated protests by the workers and Pan promised to come up with to come up with a solution within a year when he took office early last month, no solution has been forthcoming and the council continues to list the lawsuit budget for the next fiscal year.
"Fifteen to 16 years ago, the workers were owed money by their employers, and now they owe money to the government. It doesn't make any sense," unionist Lin Tzu-wen (林子文) said.
"If the council is sincere about solving the problem, it should at least withdraw the budget," he said.
The council has not only sued those who accepted the loan, but also their guarantors and heirs.
One of the protesters, Lee Tzu-feng (李志豐), 64, said he had nothing to do with Lienfu, but he, along with 30 other members of his family, have all been sued by the council.
"My wife was one of Lienfu's laid-off workers. She accepted the council's plan at the time, and asked her mother — my mother-in-law — and my father to be her guarantors," Lee said.
"Since my wife could not afford to pay the loan, 31 people on my side of the family and on my wife's side of the family are being sued as we all inherited the debts from my father and my mother-in-law," he said.
Confederation of Taoyuan Trade Unions chairman Mao Chen-fei (毛振飛) urged the council to respond positively to their demand, "otherwise we're planning to organize more intense protests."
In addition to the annual autumn rally on Nov. 25, he said the unions also plan to mobilize workers from across the country to protest before the president on Dec. 31 and Jan. 1 during the New Year celebrations.
"We may throw eggs as well as cow droppings during those protests," he said.
Several lawmakers, including the Democratic Progressive Party's Tien Chiu-chin (田秋堇), Liu Chien-kuo (劉建國), Tuan Yi-kang (段宜康) and Yang Yao (楊曜), Taiwan Solidarity Union's Lin Shih-chia (林世嘉) and Chinese Nationalist Party's (KMT) Huang Chih-hsiung (黃志雄), have voiced their support for the workers and promised to delete the budget once it is raised in the budget review.
Comments will be moderated. Keep comments relevant to the article. Remarks containing abusive and obscene language, personal attacks of any kind or promotion will be removed and the user banned. Final decision will be at the discretion of the Taipei Times.