Prisoner of war monument established in Hualien
The Taiwan POW Camps Memorial Society, with the co-operation of the Ministry of National Defense, yesterday dedicated a new monument to commemorate senior Allied officers who were imprisoned by the Japanese in a prisoner of war (POW) camp in eastern Taiwan during World War II.
Ministry of National Defense officials, along with British and US officials based in Taiwan, attended the dedication ceremony in front of a military police base in Hualien, the former site of the Karenko POW camp.
The 401 POWs held captive in the camp between 1942 and 1943 included British, US, Australian and Dutch officers, said Michael Hurst, founder and director of the Taiwan POW Camps Memorial Society, the principal force behind erecting the memorial.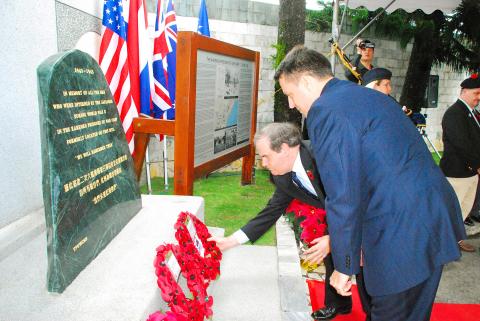 Foreign diplomats yesterday place wreaths in front of a monument in Hualien marking the site of the Karenko Japanese prisoner of war camp, in which senior Allied officers were held during World War II.
Photo: Lin Hsin-han, Taipei Times
Taiwan was a colony of Japan from 1895 to 1945.
"For many years, I've had my eye on this site, hoping that one day we can build a POW memorial here," Hurst said at the ceremony.
After the establishment of a POW memorial near the location of the Taihoku POW camp in Taipei's Dazhi District in November last year, Hurst said earlier this year he proposed to the defense ministry that a new memorial be erected at the Hualien camp.
Having the memorial at the site will ensure that the stories of the POWs who suffered and died there "have not and will not be forgotten," he added.
Family members of Britain's Major General Merton Beckwith-Smith, who died at the Karenko camp on Nov. 11, 1942, traveled to Taiwan to attend the ceremony.
"It is wonderful to be in the place where he died," said Joanna Reed, one of his granddaughters.
"[It was] a sad day in many ways," Reed said with tears in her eyes, but she added that it was nice to see the environment in which her grandfather ended his days.
"It was very moving and it was a great tribute to our grandfather and the other prisoners of war who were interned here," Anne Beckwith-Smith said.
Along with the monument, a sign was also erected telling the story of the camp.
More than 4,360 POWs were held in 14 camps around Taiwan, according to the POW Camps Memorial Society.
The event ended with a wreath-laying ceremony at the memorial.
Established in 1999, the Taiwan POW Camps Memorial Society is dedicated to locating former POW camps.
Comments will be moderated. Keep comments relevant to the article. Remarks containing abusive and obscene language, personal attacks of any kind or promotion will be removed and the user banned. Final decision will be at the discretion of the Taipei Times.