Defense official confident US military ties are strong
STABLE: Major weapons procurements from the US, worth US$18 billion in the past few years, remain an important way of 'preventing war,' the defense chief said
Taiwan is very much on the US' radar and remains an important component of Washington's strategy in the West Pacific, a top defense official said in an interview published yesterday.
Deputy Minister of National Defense Andrew Yang (楊念祖), who recently returned from one of his frequent visits to the US, told Defense News in an interview conducted late last month that while Taiwan does not figure prominently in the US rebalance — commonly referred to as the "pivot" — to Asia, Taipei and Washington have "widely" cooperated over the past two years or so.
"We have had continuous discussions on strategic relations between our two countries. We have also discussed joint operations and have had a lot of discussions on how to help us develop new doctrines reinforcing our defenses as a result of continuous modernization," he said.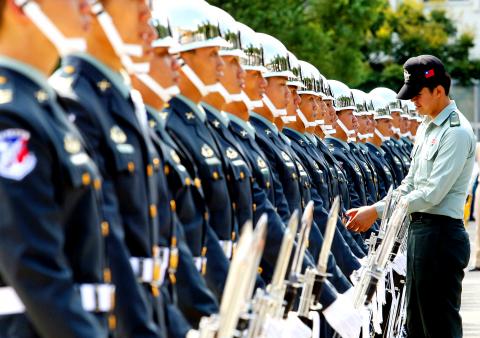 An officer inspects guards of honor in this undated file photo. The Ministry of National Defense yesterday confirmed its plan to make military service entirely voluntary.
Photo: CNA
Taiwan and the US have also had discussions on joint logistics support and training, he said, adding that the US was putting "a lot of effort into how to improve defense ties between Taipei and Washington."
"Of course, we are continuously discussing how to help Taiwan develop so-called asymmetrical advanced capabilities, which is certainly very important for our self-defense and for preventing war in this region in the course of conducting rapprochement across the Taiwan Strait," said Yang, who is policy coordinator at the ministry.
Echoing remarks by US Assistant Secretary of State for East Asian and Pacific affairs Kurt Campbell, Yang said strong self-defense capabilities were "a very important pillar to support the peace process across the Taiwan Strait."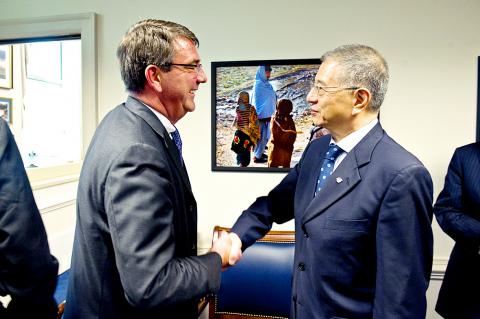 Deputy Secretary of Defense Ashton Carter greets Taiwan Vice Minister of Defense Andrew Yang prior to a meeting at the Pentagon October 2, 2012.
Photo: Erin A. Kirk-Cuomo
He added he was very pleased with his meeting with US Deputy Secretary of Defense Ashton Carter in Washington on Oct. 2.
This was a "very candid and constructive" discussion that touched on a wide range of issues regarding defense cooperation under the umbrella of the Taiwan Relations Act (TRA).
"He [Carter] emphasized that Taiwan was very much on the US radar," Yang said. "When US Defense Secretary Leon Panetta gave the address at the 2012 Shangri-La Dialogue in Singapore in June, he also mentioned Taiwan regarding the US pivot towards Asia … so Taiwan is still part of the US' Western Pacific strategy."
"If you look at the [TRA], it emphasizes that Taiwan is very important for the security of the Western Pacific and the US fully supports Taiwan accessing sufficient defense articles, assistance and services," Yang said.
Asked whether Washington's continued refusal to sell Taiwan F-16C/Ds and diesel-electric submarines was a sign that the US might not continue to supply Taiwan with defensive weapons, Yang struck an optimistic note saying that Washington's decision to upgrade Taiwan's 145 F-16A/Bs had created "a very important window of opportunity to discuss further needs for advanced jet fighters."
He added that the submarines were still very much on the table and remained a priority in defense acquisition, along with upgrades, modernization, systems integration and C4ISR capabilities. He added that the ministry had made the Executive Yuan aware that Taiwan would need a lot of money over the next two years or so to pay for the aggregate US$18 billion in arms sales released by the US in past years.
Yang said he did not believe the US was ignoring Taiwan's defense needs to placate China nor was on the brink of abandoning it for the sake of better relations with Beijing.
"I heard some of these comments during my visit to Washington, but from the US government's point of view, they are very much interested in improving ties with Taiwan," he said.
"As far as I can see, I don't think the US is unintentionally pushing Taipei towards Beijing," Yang said, adding it would be "pretty bad" for the US and the region if Taiwan and China unified or drew strategically closer, because Washington would lose the trust of its Asia partners.
Turning to the ministry's ongoing efforts to create armed forces made up entirely of volunteers by 2015, Yang said the nation faces a lot of challenges, but said the legislature had released the finances necessary to carry out the transformation.
Recruitment is scheduled to commence in January, with the number of soldiers dropping from 210,000 at present to 190,000 by 2015 and with no further plans for reduction following that drop, he said.
Comments will be moderated. Keep comments relevant to the article. Remarks containing abusive and obscene language, personal attacks of any kind or promotion will be removed and the user banned. Final decision will be at the discretion of the Taipei Times.