INTERVIEW: Aging nation needs respect: campaigner
OLD, BUT NOT PAST IT: Doris Lin, who fronts the Hondao Foundation, says that older people who once held down important jobs are increasingly being sidelined by society
Hondao Senior Citizens Welfare Foundation chief executive Doris Lin (林依瑩) says that it is a wonderful thing to dream, but adds that many elderly people often wonder if they still have the right to dream.
Lin runs the organization that is tasked with helping older people get the most from the last stages of their lives, which involves restoring confidence and the belief that they too can dream.
Lin, 39, who has a distinctive 15-year history of helping the elderly, said "I was very much influenced by my grandmother while growing up," adding that "it was only natural for me to end up helping the elderly."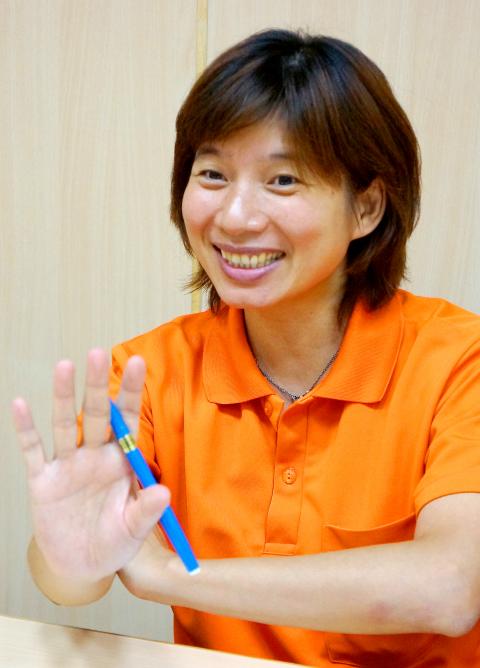 Hondao Senior Citizens Welfare Foundation chief executive Doris Lin gestures during an interview on Oct. 30.
Photo: Lu Chun-wei, Taipei Times
Speaking about the care she helps provide for older people, Lin said Taiwanese perspective on that front differs from some other countries. Citing Norway as an example, Lin said that the Nordic nation's policies were designed to keep its elderly population active, while Taiwan's policy was to invest in their long-term care.
Lin said that Taiwan's approach is far from ideal in terms of long-term insurance and care provision, adding that she felt that most people probably do not expect that their National Health Insurance fund is being used to stick tubes into the elderly who are then confined to a sickbed for the remaider of their lives.
"We should incorporate some elements of invigorating an aging population within the long-term healthcare insurance framework, while bringing about a revitalization of the elderly population in both the national and industrial sectors, Lin said.
Lin is also the behind-the-scenes mastermind of the recent cinema hit Go Grandriders (不老騎士) — a documentary that followed 17 men with an average age of 81 as they made their way around the nation on a 13-day trip in 2007, visiting elderly homes along the route.
The film has grossed NT$9 million (US$311,030) since its cinematic debut on Oct. 12.
Lin said the impetus behind the documentary was her experience in Japan and China, where she discovered participants of the "Thousand Mile Ride," an event where older people were encouraged to go on cycling trips more than 1,000km in length. She saw that many older people were healthier and in better spirits than their peers.
"That gave me the idea that taking elderly people on a motorbike tour of the island would be a good thing to do," Lin said.
The plan was strongly supported by Lai Ching-yen (賴青炎), the then-87-year-old leader of the group of 17, said Lin, who quoted Lai as saying that she should act and "take the old, old men out."
Lin said that Lai gave her a valuable insight, telling her: "People who haven't hit the 80-year-old mark don't know what kind of sorrows the elderly have."
She said he also told her that "Society is actively retiring the old and the aged and I want to let everybody know that despite our age we're still valuable and of use."
Lai passed away in July, 2010.
Lin said she agreed with Lai's view, adding: "The rapidity with which Taiwan's society is aging [should lead us to alter our concept of elderly care.] Social pressures on an older population to remain at home [should be loosened] because it only breeds a loss of confidence and will bring about a silvery-haired tidal wave of problems upon society."
True to her ideals, Lin based her choice of those who would join the riders not on the health, but rather on their age.
The event's success led to the organization of other events, such as the formation of an elderly baseball team, a Broadway-style play at the Taipei Arena, as well as other schemes designed to help older people regain confidence while living their lives to the fullest.
"A lot of the people that Hondao serves have been generals, deans of schools and universities or owners of companies. People who — in their day — were figures of some importance. It is saddening to see that in the latter days of their lives the only people they end up seeing are the overseas workers hired to take care of them," Lin said.
In another effort to revitalize the country's elderly population, Lin started another activity in which elderly people were invited to form groups and participate in singing and dance competitions, which have helped bring about an unprecedented wave of older people leaving their semi-reclusive lifestyles and rejoining society.
The Department of Health has not only listed the event as part of its policymaking process, but says the event has seen as many as 50,000 older people participating.
Lin said that she was over joyed and surprised to see the recent Double Ninth Day (重陽節) — a traditional holiday observed by Chinese, Japanese, Koreans and Vietnamese on the ninth day of the ninth lunar month, and declared senior citizens day by the government in 1966 — prompted local governments nationwide to not only host dinners for the elderly, but also to form groups and tours in which older people were taken on national and global trips. Lin added that she was very glad to see society changing its attitude toward the elderly.
Discussing her next moves, Lin's eyes lit up when she outlined plans for a new door-to-door volunteer service.
"In preparation for the advent of a rapidly aging society, the prevention of disease, as well as long-term healthcare need to have equal weight and I plan to integrate both foreign and domestic labor forces to establish a method of long-term care —a method that will promote a mobile door-to-door service in synch with the Taiwanese family system," Lin said.
"I don't feel that I will ever grow tired of my job," she added.
Saying that she wished all older people could have "positive and outgoing lives" in their latter days, Lin added: "It's not just care we need to give our elders, but rather to let them participate more in our lives. It is my wish that all elderly people could be active in their lives up until their last breath."
Comments will be moderated. Keep comments relevant to the article. Remarks containing abusive and obscene language, personal attacks of any kind or promotion will be removed and the user banned. Final decision will be at the discretion of the Taipei Times.