Most support DPP-CCP exchanges to boost relations: poll
MATTER OF OPINION: A survey has shown ex-DPP head Tsai Ing-wen is most trusted to drive Taiwan's interests, but President Ma fared far worse in the poll
A majority of respondents in an opinion poll released yesterday said increased exchanges between the Democratic Progressive Party (DPP) and China would be helpful in stabilizing cross-strait relations, and picked former DPP chairperson Tsai Ing-wen (蔡英文) as their top choice to be Taiwan's representative in cross-strait negotiations.
The release of the survey, conducted by Taiwan Indicator Survey Research (TISR) on Thursday and Friday, coincided with former premier Frank Hsieh's (謝長廷) return from his landmark five-day visit to China yesterday.
The poll found that 57.8 percent of respondents agreed that such visits by DPP members would promote cross-strait peace and stability, while 23.1 percent said they would be unhelpful.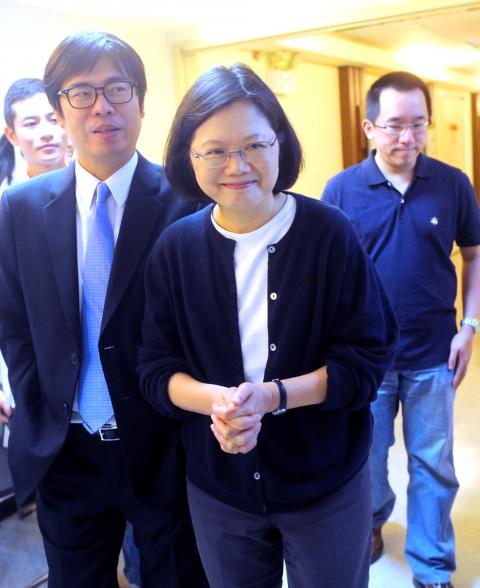 Former Democratic Progressive Party (DPP) chairperson Tsai Ing-wen, center, and DPP Legislator Chen Chi-mai, left, visit former president Chen Shui-bian at Taipei Veterans General Hospital yesterday.
Photo: Wang Min-wei, Taipei Times
Out of a possible six candidates proposed by the survey, 42.1 percent of respondents chose Tsai as their ideal negotiator should bilateral talks on political issues be held.
Legislative Speaker Wang Jin-pyng (王金平) followed with 38.5 percent while DPP Chairman Su Tseng-chang (蘇貞昌) was ranked third at 38 percent and President Ma Ying-jeou (馬英九) fourth with 29.4 percent.
Hsieh came in fifth with 25.4 percent of the vote, while new Mainland Affairs Council Minister Wang Yu-chi (王郁琦) was the least favored option with 6.6 percent Almost 12 percent of those polled said none of the candidates would be capable of speaking for them.
Among respondents who identified themselves as DPP supporters, Tsai won with 71.5 percent, while Su came in second with 58.9 percent and Hsieh third with 43.1 percent.
"The most noticeable fact in the survey's results is that Ma, as president, only ranked fourth," TISR general manager Tai Li-an (戴立安) said.
Additionally, 73.1 percent of respondents agreed that the DPP, which supports the establishment of the Republic of Taiwan in its party charter, and the Chinese Communist Party, which insists that Taiwan is part of China, should shelve their differences and promote peace on both sides of the Taiwan Strait, although 10.3 percent disagreed.
The survey also found that Ma's credibility rating has hit its lowest level, 23.5 percent, since he first took office in 2008 and his 72.1 percent disapproval rating was the highest yet recorded during his tenure as president.
The poll collected 1,008 valid samples and had a 3.1 percent margin of error.
Comments will be moderated. Keep comments relevant to the article. Remarks containing abusive and obscene language, personal attacks of any kind or promotion will be removed and the user banned. Final decision will be at the discretion of the Taipei Times.