FEATURE: Retirees turn silver years into golden age
Earning a doctoral degree, climbing to the 3,952m summit of Jade Mountain (玉山) or embarking on a journey around the country by motorcycle. These are not just the dreams of young people, but things that have been accomplished by Taiwanese senior citizens.
Everyone has dreams when they are young. However, upon growing up, some people become inactive and see their dreams as unaccomplishable, while others hesitate and make excuses. Only a few people have the courage to act on their dreams.
A new Taiwanese film featuring a cross-country octogenarian scooter brigade may inspire people to pursue their dreams, director Hua Tien-hau (華天灝) said.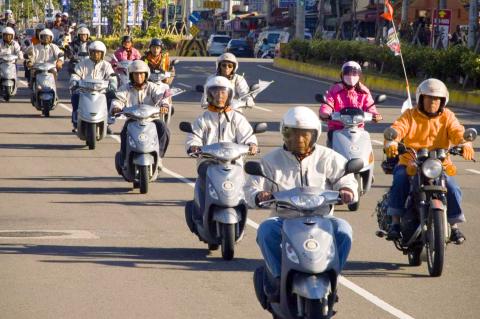 Members of a cross-country octogenarian scooter brigade are shown in a screenshot from the film Go Grandriders earlier last month.
Photo: Taichung City Hondao Senior Citizen's Welfare Foundation.
The 90-minute film, entitled Go Grandriders (不老騎士), was based on the true story of 17 people— with an average age of 81 — who decided to embark on a motorcycle journey around the island five years ago in a bid to fulfill their dream of seeing every part of Taiwan, Hua said.
Aiming to portray the spirit that "one is never too old to do anything," Hua, 31, said he himself was deeply touched while filming the documentary-like movie.
Two of "the grandriders" were cancer survivors, four wore hearing aids, five had high blood pressure, eight suffered from heart disease and all of them suffered from arthritis.
Despite their illnesses and various objections from their families, they embarked on a 1,178km ride that took 13 days to complete.
"Of course, people age, but their heart shouldn't," said grandrider Wang Chong-tien (王中天), who is 88 years old, but looks like he is in his early 70s.
Describing the trip as the most unforgettable experience of his life, Wang said he not only fulfilled his dream, but had also been inspired to pursue other interests.
"Nothing scares me now," he said, adding that he would love to do it again in his 90s.
Another grandrider Lai Hsiu-sheng (賴秀昇), 89, recalled some highlights of the trip, saying that he felt like he was the president as rode through the southern county of Chiayi and police ensured all traffic lights were green.
Lai's wife Lee Ching-yueh said that during the 13 days he was away, Lai was like a bird set free. He was having so much fun that at one point, he forgot to call her for four days.
"The trip was good for him, though," Lee Ching-yueh said, adding that her husband felt much younger and more energetic afterward.
The film was nominated as one of 10 entries for the Mecenat Award in the Wide Angle Documentary Competition at the 17th Busan International Film Festival in South Korea. The festival, which opened on Thursday and is to run until Oct. 13, will announce winners on its final day.
By the end of August, the number of senior citizens — those aged 65 or above — in Taiwan reached over 2.56 million, or 11.02 percent of the population, according to government statistics.
As a result of its low birth-rate, Taiwan became an aging society in 1993, when people aged 65 or older accounted for more than 7 percent of the population. The government forecast that by 2018, more than 14 percent of the population will be aged 65 or older.
That percentage will rise to 20 percent or higher in 2025, turning Taiwan into a "super-aged society" — surpassing the US and several European countries.
"Senior citizens' lives should be more colorful and there should be all kinds of possibilities," said Doris Lin (林依瑩), chief executive officer of the Hondao Senior Citizen's Welfare Foundation, which initiated the "grandrider program."
Established in 1995, the Taichung-based foundation has come up with many "unexpected" activities for senior citizens, Lin said.
One of the activities was a Broadway show, which was performed at the Taipei Arena on Tuesday.
The venue usually sees concerts by young pop entertainers such as Japan's idol group Arashi, South Korea's Super Junior and American singer Jason Mraz.
The foundation has also organized senior baseball games, talent show competitions and has even brought elderly people back to the military for a day, so they may relive their past experiences of Taiwan's mandatory military service, according to Lin.
"Some people call me crazy, but I really feel happy that I can listen to these senior citizens' dreams and help them realize them," Lin said.
Comments will be moderated. Keep comments relevant to the article. Remarks containing abusive and obscene language, personal attacks of any kind or promotion will be removed and the user banned. Final decision will be at the discretion of the Taipei Times.