Ma inspects arms amid sovereignty row over islands
President Ma Ying-jeou (馬英九) inspected military units yesterday and was briefed on developments over the Diaoyutai Islands (釣魚台) amid growing tension over the disputed archipelago, the Ministry of National Defense said.
The Taiwanese military has found that Japanese patrol ships and aircraft, as well as Chinese fishing boats, surveillance vessels and missile patrol vessels, are operating near the Diaoyutais, Ma said at a gathering with military police after his inspection visit to an air force radar squadron and a navy radar station.
"We have a full grasp of the situation," Ma said, adding that the air force, the navy and the Coast Guard Administration are keeping a close eye on the waters around the Diaoyutais and other nearby islets in the region.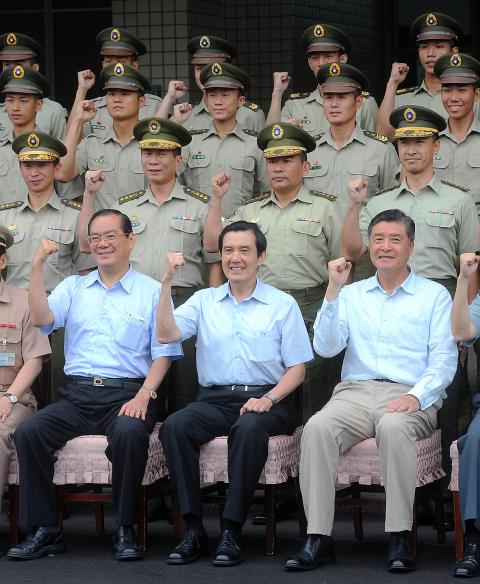 President Ma Ying-jeou, front center, accompanied by Minister of National Defense Kao Hua-chu, front right, poses with a group of military police at the Military Police Command in Taipei during an inspection yesterday.
Photo: Liu Hsin-de, Taipei Times
Ma's remarks came amid an escalating territorial dispute over the Diaoyutais after the Japanese government, which already administers the islands, recently decided to nationalize the island group by buying three of them from a private owner.
Meanwhile, the ministry said in a statement that it has beefed up air patrols over the Diaoyutais and waters surrounding the islands.
Reaffirming Taiwan's sovereignty over the Diaoyutais, Ma reiterated the government's policy of resolving the disputes on the principles of safeguarding sovereignty, shelving differences, pursuing peace and reciprocity and jointly exploring resources.
The president also repeated his call for all sides involved in the dispute — Taiwan, Japan and China — to adopt the East China Sea peace initiative he proposed early last month and to address the issue through peaceful means.
The Diaoyutais, known as the Senkakus in Japan, lie about 120 nautical miles (220km) northeast of Taiwan.
Comments will be moderated. Keep comments relevant to the article. Remarks containing abusive and obscene language, personal attacks of any kind or promotion will be removed and the user banned. Final decision will be at the discretion of the Taipei Times.