Taiwanese men are too fat: DOH
Men's average waist measurements show that Taiwanese men are getting fatter.
Waist sizes have increased by 2.9cm in the past five years, the Department of Health said yesterday, adding that the number of men over 40 years old with an oversized waistline had reached more than 40 percent of the age group, which may lead to higher rates of metabolic syndrome.
Waist size does not only reflect weight, but also the odds of getting diagnosed with metabolic syndrome, Bureau of Health Promotion Deputy Director Chao Kun-yu (趙坤郁) said, adding that about 50 percent of people with oversized bellies may suffer from metabolic disorders. That percentage increases to 75 percent among those who have abnormal blood pressure.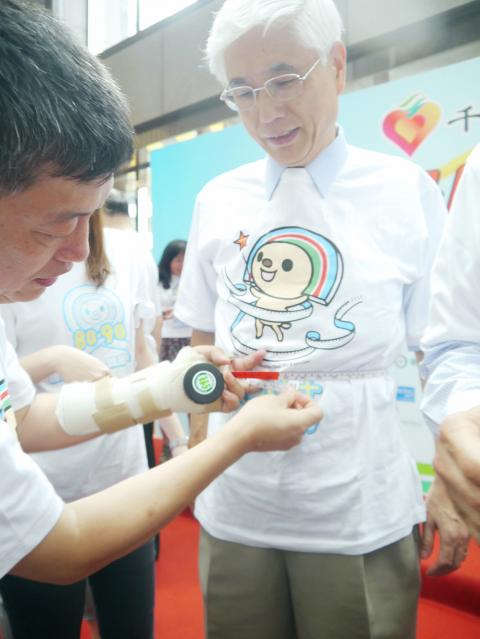 A man has his waistline measured during a press conference held by the Department of Health in Taipei yesterday.
Photo: Wang Chang-min, Taipei Times
People with metabolic syndrome are more prone to suffering from diabetes, high blood pressure, high blood lipids, heart attacks, cerebral stroke and cardiovascular diseases Chao added.
According to the results of a follow-up survey on the prevalence of high blood pressure, high blood sugar (hyperglycemia) and high blood lipids conducted by the department, the average waist measurement of men has increased from 84.7cm to 87.6cm in five years.
The most dramatic expansion, 5.2cm, was seen in young men between 19 and 30 years old, while the average increase in waist size for those aged between 31 and 41 was 3cm, Chao said.
In addition, according to statistics gathered from 1.46 million people nationwide between August last year and May this year, about 40.8 percent of men aged between 40 and 64 had oversized waists — above 90cm — and really needed to slim down, Chao added.
The bureau said that since Father's Day is celebrated tomorrow, family members should be encouraged to care more about fathers' health by paying attention to their waist size.
The bureau said it initiated a health examination service for adults in August last year to prevent weight problems, which includes measuring Body Mass Index (BMI) and waist size, as well as monitoring cholesterol levels, triglyceride levels, high-density lipoprotein cholesterol levels. It hoped the service would help the public understand health issues and discover metabolic syndromes at an early stage.
The service is provided free of charge once every three years to adults aged between 40 and 65, and once a year for adults above 65 years old.
Comments will be moderated. Keep comments relevant to the article. Remarks containing abusive and obscene language, personal attacks of any kind or promotion will be removed and the user banned. Final decision will be at the discretion of the Taipei Times.