Matsu makes bid to lure more tourists from China
The outlying island chain of Matsu will establish a duty-free shopping center with boutique stores selling luxury products later this year as the Lienchiang County (連江縣) Government continues its efforts to attract more Chinese tourists following a recent referendum in which residents voted in favor of a casino for the same reason, a tourism official said.
The group of islands is located about 20km from China, but sees only about 7,000 visitors from that country each year. It wants a lot more.
The county is preparing for the hoped-for influx of tourists by opening shops selling luxury brands, Matsu National Scenic Area Administration director Guu Yung-yuan (古永源) said.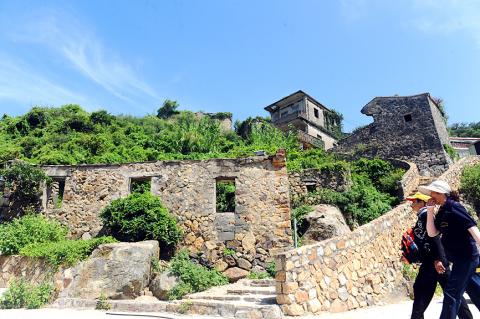 Chinsha Village on Nankan Island in the Matsu archipelago is seen on July 9.
Photo: Chang Chia-ming, Taipei Times
"We want Matsu to be recognized as a destination for shopping," Guu said, adding that Matsu's shift in image, from a pristine island to luxurious vacation location, could appeal to Chinese tourists who are known for their strong interest in luxury brands and Taiwanese-made goods.
The duty-free shopping center will mainly sell Taiwanese goods.
The boutique stores will sell top brands — like Gucci or LV — at prices that are cheaper than Hong Kong and other Chinese coastal cities, Guu said.
The market potential is huge, Guu added, explaining that Chinese tourists are fond of a wide range of goods, from natural soaps to skincare products and electric rice cookers.
Matsu will first open a 1,600m2 duty-free mall on Saturday. It is hoped that the retail outlet will generate annual revenue of NT$60 million (US$1.99 million).
By the end of October, Guu said, more boutique stores will be opened by Tasa Meng Co, which runs similar businesses at Taiwan Taoyuan International Airport.
Setting the casino factor aside, Guu said he hoped Matsu's new branding would help it to attract about 200,000 tourists a year for the next 10 years, with Chinese tourists accounting for half of that figure. It currently receives about 100,000 tourists annually.
An important frontline outpost during key periods of conflict with Chinese Communist forces, Matsu remained under a war-zone civil administration until 1992, but has since relied on tourism to promote economic growth.
However, the lack of jobs has forced many young people to leave Matsu to work in Taiwan proper. Hope that more jobs can be created was one of the key reasons that a majority of those who cast votes were in favor of the proposal to build a casino in the recent referendum.
Guu said the "small three links" framework established in 2001 allowing limited postal, transport and trade links between some Chinese cities and Taiwanese-held outlying islands used to generate a significant number of Chinese tourists for Matsu.
At one point, the "small three links" served as a major channel for Chinese tourists wishing to visit Taiwan and nearly 20,000 Chinese people made use of it in 2009.
However, the popularity of that approach has faded following the launch of direct flights between major Chinese and Taiwanese cities in 2008. Since then, the number of Chinese visitors to Matsu has fallen, with only 7,630 visiting last year, accounting for just 7 percent of all visitors to the islands.
Direct links mean Chinese tourists no longer have to go through Matsu or other outlying islands to visit Taiwan, Guu said.
Nevertheless, he acknowledged that challenges lay ahead for Matsu as it tries to reinvent itself in a bid to appeal to Chinese tourists.
One factor of concern is travel costs for Chinese tourists and discussions on ways to lower those costs is a pressing issue, Guu said.
Matsu also needs to provide more flexible ferry services, Guu said, adding that a combination of chartered and scheduled trips could be launched in the future to cut down on current transportation costs, which average about NT$3,000 for each round trip.
Comments will be moderated. Keep comments relevant to the article. Remarks containing abusive and obscene language, personal attacks of any kind or promotion will be removed and the user banned. Final decision will be at the discretion of the Taipei Times.