AIDC signs MOU for F-16 upgrade
A Taiwanese aviation firm and a US defense contractor have signed a memorandum of understanding (MOU) signaling the official start of a strategic partnership on aircraft refitting projects and component manufacturing.
Aerospace Industrial Development Corp (AIDC) announced yesterday it had signed the MOU with Lockheed Martin Corp on Wednesday at the week-long 2012 International Air Show in Farnborough, in the UK.
AIDC president Butch Hsu (徐延年) and Lockheed Martin vice president of international business development Ana Wugofski signed the document expanding the strategic relationship and promoting the joint exploration of opportunities for both companies in an upgrade program for Taiwan's 146 F-16A/Bs.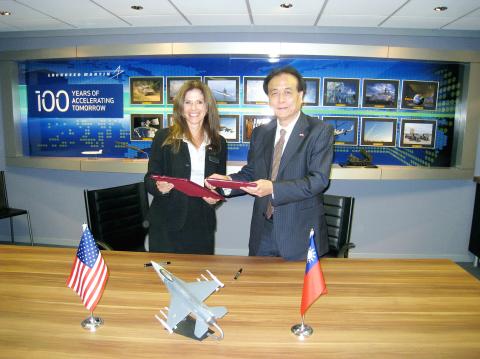 Representatives from Taiwanese aviation firm Aerospace Industrial Development Corp and US defense contractor Lockheed Martin are pictured in the UK yesterday following the signing of a memorandum of understanding signaling the official start of a strategic partnership on F-16A/B upgrade projects and component manufacturing.
Photo courtesy of AIDC
Although the US government turned down Taiwan's request for 66 F-16C/Ds in September last year, US President Barack Obama notified Congress of a US$5.8 billion retrofit package for Taiwan's aging fleet of F-16A/Bs.
According to AIDC spokesperson Mike Lee (李適彰), as Lockheed Martin is the original producer of the F-16s, signing the MOU would allow the retrofitting project to be held in Taiwan, provided Lockheed Martin won the bid to oversee the retrofit project.
Only one other company, BAE Systems, has the capability to perform the upgrades on the F-16s, but it does not appear to have been considered for the program.
If the retrofit project could be done in Taiwan, it would create a lot of jobs, Lee said.
Lockheed Martin has sent personnel to evaluate the company and said AIDC "is the only aerospace company in Taiwan" that possessed the technology and capacity requirements for the retrofit project, Lee said.
Founded in 1969, AIDC is a state-owned corporation that is capable of airplane design, research and development, systems integration, production, maintenance, logistic support and upgrades to airplane systems. Its has partnerships in seven countries and with 19 international aerospace corporations.
Vice president and deputy for F-16/F-2/T-50 programs at Lockheed Martin Aeronautics Roderick McLean said on Wednesday that AIDC was capable and that Lockheed was "confident this collaboration effort will position both of our companies to better support our Taiwan customer."
Meanwhile, Hsu said that as the retrofit package exceeded all past operational capability upgrade packages, it was a significant milestone for AIDC to work with Lockheed on the project.
"We cherish the foundation of mutual trust developed with our most important partner and we are confident that our joint efforts would be able to satisfy the Republic of China Air Force's requirements for quality, timely delivery and acceptable price," Hsu said.
Commenting on the necessity of setting up maintenance hangars and joint component manufacturing, AIDC said it was trying to enlist the support of the Ministry of Economic Affairs.
"In accordance with the Ministry of National Defense's policy of downsizing the military and promoting voluntary military service, we hope to combine the efforts of affiliated domestic industries and build a world-class F-16 maintenance center in Taiwan with the aid of Lockheed Martin, so as to elevate Taiwan's ability to conduct its own repairs," Hsu said.
Comments will be moderated. Keep comments relevant to the article. Remarks containing abusive and obscene language, personal attacks of any kind or promotion will be removed and the user banned. Final decision will be at the discretion of the Taipei Times.