It's A Ticket To Ride in unique karaoke cab
FARE GAME: A taxi driver, driven to distraction by a 12-hour working day, has installed a karaoke machine and gives passengers a chance to win a free journey in his vehicle
To stave off the boredom of long hours of driving and to keep his passengers entertained, a taxi driver in Taipei is offering his fares the possibility of a free journey if they manage to sing a song of his choice correctly.
In a notice displayed on the back of the headrests, taxi driver Tu Ching-liang (涂清涼) informs passengers that they can, if they wish, sing a song on the miniature karaoke machine he has installed in the vehicle.
While that may not be surprising in itself, the fact that the karaoke system's speakers are located on the outside of the taxi may cause some passengers to raise an eyebrow, or two. The rules also stipulate that if a customer accepts Tu's challenge, they can either ride for free or receive a prize.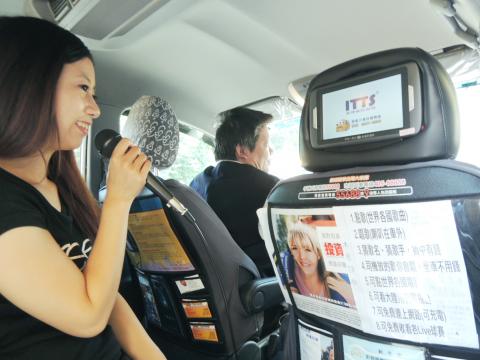 Taxi driver Tu Ching-liang listens as a passenger tries out an on-board karaoke machine in his taxi in New Taipei City on Thursday.
Photo: Tsai Wei-chi, Taipei Times
"Passengers who guess the name of the singer and the song correctly get a prize, and if they sing the song I choose and know both the lyrics and the tune, they get a free ride," Tu said.
Tu's taxi-based game takes its cue from the One Million Singer (百萬大歌星) show on TV, in which contestants are invited to memorize song lyrics and melodies.
Tu says a taxi driver's profession can be rather depressing, but the game adds some joy to his vocation.
"I enjoy a lively environment and I like to sing," Tu said, adding that his sociable character prompted him to convert his cab into a mobile karaoke in March. Tu said he also enjoys the fact that the game brings him and the customer closer and that it allows them to both enjoy themselves.
Tu said that five years ago he started operating a smaller-scale version of the game in which he would play CDs and ask passengers to guess the singer and song title. Depending on how difficult the song was, Tu said he would deduct between NT$10 to NT$50 from the cab fare.
"On average I drive about 12 hours per day and have an average of about 40 passengers per day," Tu said, adding that about one in four passengers would take him up on his karaoke musical challenge.
Not a lot of people succeed, but it makes the journey more lively, Tu said, adding that if he is in a good mood he would requests that the customer sing Happy Birthday or allow them to call friends for help in guessing the song.
Tu said his favorite song was Delphine Tsai's (蔡幸娟) Luan Luan Bang (亂亂夢) — which is sung in Hoklo (commonly known as Taiwanese) — adding that if anyone successfully completed the challenge by singing that song, he would be glad to offer the person a free ride — even if it involved driving from Taipei to Taichung.
Although it might seem as if Tu is getting the shorter end of the deal, he said that a large number of his passengers still tip him and added that in one particularly successful month he received NT$6,000 in tips.
Comments will be moderated. Keep comments relevant to the article. Remarks containing abusive and obscene language, personal attacks of any kind or promotion will be removed and the user banned. Final decision will be at the discretion of the Taipei Times.