Air force search-and-rescue gets new helicopters
WELCOME BOOST: Adding the EC225 Super Pumas to the Air Force's arsenal will modernize its rescue efforts as they are specially suited for nighttime missions
Three European-built EC225 Super Puma helicopters were officially commissioned into the air force at a ceremony yesterday, providing a welcome boost to the nation's search-and-rescue (SAR) capabilities.
During the ceremony, held at Songshan Air Force Base in Taipei, President Ma Ying-jeou (馬英九) told a large gathering of military personnel and foreign dignitaries that the armed forces' disaster response work in recent years had earned them the trust of the public.
The EC225, built by the France-based Eurocopter, an EADS subsidiary, has a maximum takeoff weight of about 11 tonnes and can accommodate two pilots, four crew and as many as 20 passengers or three stretchers, according to the builder's Web site. The twin-engine, five-rotor-blade helicopter has a maximum endurance of five hours and 38 minutes, a maximum speed of 324kph and a maximum range of 838km.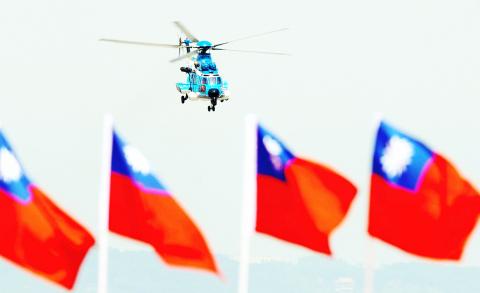 A EC225 rescue helicopter puts on a display yesterday during a ceremony in Taipei.
Photo: AFP
The Super Pumas are the first European-built helicopters to serve in the Air Force's rescue squadron, joining the Sikorsky S-70Cs, the nation's main workhorse for search and rescue operations, which were acquired in the 1980s and 1990s. The total price tag for the three helicopters was NT$3.6 billon (US$120 million).
About 900 EC225s have been ordered by 52 countries, the company said on its Web site.
Following a flyby by F-16s, F-CK-1 "Ching Kuo" Indigenous Defense Fighters, Mirage 2000 and AT-3 trainers, the audience was treated to a live demonstration of the S-70C and EC225's flight and rescue capabilities.
Colonel Chen Tung-sheng (陳東昇), who heads the air force's rescue squadron, told reporters at the ceremony that the automatic flight control systems and other advanced devices featured on the EC225 would be especially beneficial during nighttime operations.
One S-70C-6 Super Blue Hawk crashed at sea during a nighttime rescue mission off Orchid Island in March, leaving four of the five occupants missing. In 1995, a S-70C-1 crashed into a mountain during bad weather, killing all on board.
Chen said the Super Pumas would be on standby to provide search and rescue starting today, adding that pilots would be trained to be able to fly both the S-70C and EC225.
The helicopters will be based at the 455th Tactical Fighter Wing at Chiayi Air Base.
Comments will be moderated. Keep comments relevant to the article. Remarks containing abusive and obscene language, personal attacks of any kind or promotion will be removed and the user banned. Final decision will be at the discretion of the Taipei Times.