Navy investigates disappearance of a classified chart
NATIONAL INSECURITY: The chart may jeopardize the security of navy vessels and is the second defense mishap in months after the MND lost a classified laptop
Two classified naval charts were reported missing when an inventory was carried out amid the decommissioning of aging Hai Ou ("Seagull") missile boats last month, and the information they contained could put navy vessels at risk during wartime, reports said yesterday.
According to the Chinese-language United Daily News, navy officers who had custody over the documents accidentally burned one of the two missing charts while destroying other documents, but the other, which contained classified information about naval deployments in the Taiwan Strait, remains unaccounted for.
The missing chart reportedly contained hydrographic data, ship information, waterways depth, sea salt fluctuation and the locations of navy vessels and submarines in wartime.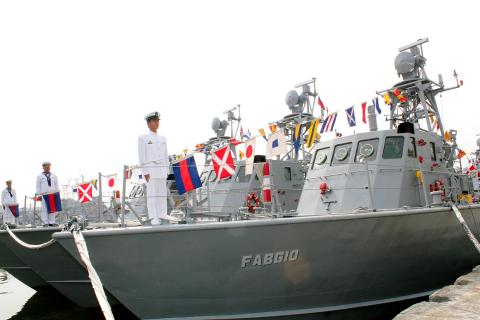 Hai Ou ("Seagull") missile boats are seen in this undated photo.
Photo: Military News Agency
The information could leave navy vessels exposed if it were to fall in enemy hands, reports said.
Naval Command said two control officers had received demerits over the affair and added that it had turned the case to a local military court for possible prosecution. It said it had also instructed all relevant units to tighten management of confidential information.
The navy decommissioned its last 20 Hai Ou missile boats during a ceremony at the Zuoying (左營) naval base in Greater Kaohsiung on July 1. The ships, whose design was inspired by Israel's Dvora-class patrol boats, had been in service for about three decades. Each Hai Ou — a total of 50 were deployed — came equipped with locally produced Hsiung Feng I (HF-1) anti-ship missiles.
Amid modernization efforts, three squadrons of Kuang Hua VI (KH-6) radar-evading fast-attack missile boats have entered service since 2010. Each of the 31 KH-6s is armed with the more advanced HF-2 anti-ship missile.
The embarrassment over the disappearance of the classified chart comes after the Ministry of National Defense (MND) admitted last month that it had launched an investigation into the disappearance in May of a top-secret laptop used on a KH-6 vessel.
The computer, which belonged to the Chungshan Institute of Science and Technology's (CSIST) — the nation's top military research body — had been installed for a six-month period, during which the ship's crew carried out tests of confidential communications equipment and procedures.
The Southern District Prosecutors' Office is handling the investigation into the computer's disappearance.
Additional reporting by CNA
Comments will be moderated. Keep comments relevant to the article. Remarks containing abusive and obscene language, personal attacks of any kind or promotion will be removed and the user banned. Final decision will be at the discretion of the Taipei Times.