Ma lauds Taiwan space control center launch
FINAL FRONTIER: Scientists from the nation are making a special contribution to the future of the human race with their role in the US$100 billion project, the president said
The establishment of a Taiwan-based ground control center for an advanced particle physics detector in space is a win-win development, President Ma Ying-jeou (馬英九) said yesterday at the formal opening of the facility. A new generation of researchers can be trained, while Taiwanese scientists continue to contribute to the Alpha Magnetic Spectrometer-02 (AMS-02) project that is key to the future of the human race, Ma said.
The Payload Operations Control Center located in Taiwan, one of only two in the world, began operations on Sunday to help monitor the particle physics detector in space. The device is designed to detect charged particles in cosmic rays to find anti-matter and dark matter in the hope of answering questions about the "big bang" and the formation of the universe.
The military-run Chung-shan Institute of Science and Technology in Taoyuan County, where the center is located, has sent six experts to the US and Switzerland for training, while the Ministry of National Defense has also trained a batch of servicemen to participate in the program, the president said. In the future, other young scientists who are interested in the field would be recruited to the project, Ma said.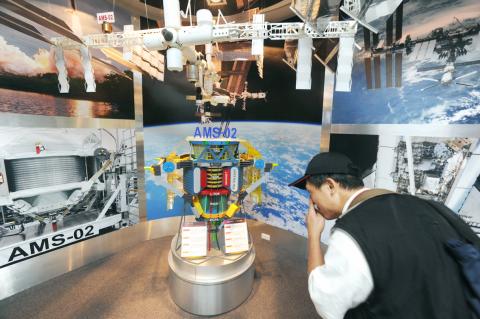 A journalist looks at a model of the Alpha Magnetic Spectrometer II at the Chung-shan Institute of Science and Technology in Lungtan, Taoyuan County, yesterday.
Photo: AFP
The AMS project, headquartered at the European Organization for Nuclear Research in Geneva, cost about US$100 billion. Ma said no single country can afford to shoulder that kind of price tag, but the research could become the basis for many fields of applied sciences in a few decades.
"It's not being done for immediate benefit, but for future generations," Ma said.
In order for the human race to advance, these types of scientific achievements must be passed on to coming generations, he said.
The AMS-02 project was launched by the US Department of Energy in 1999 in collaboration with 15 other countries, including Taiwan. It is scheduled to run for 15 years.
Comments will be moderated. Keep comments relevant to the article. Remarks containing abusive and obscene language, personal attacks of any kind or promotion will be removed and the user banned. Final decision will be at the discretion of the Taipei Times.