Twins invent faster way to dry clothes
MANGA MOMENT: The brothers were inspired by the bamboo propeller used by Doraemon to improvise a combination fan and clothes hanger
A pair of twins has invented a timesaving device for housewives in rain-prone areas as well as people on the road — a portable electric "fan hanger" that can dry wet clothes efficiently, rain or shine.
Drawing inspiration from a fictional device in the Japanese manga series Doraemon — the title character's bamboo propeller — Tsai Kai-yu (蔡凱宇) and Tsai Kai-fan (蔡凱帆), both students in creative product design at Far East University in Greater Tainan, came up with the innovation by integrating fan blades with a clothes hanger.
"Our invention came after repeatedly hearing the same complaints by our upperclassmen after they went abroad to take part in various competitions," said Tsai Kai-fan, the younger brother.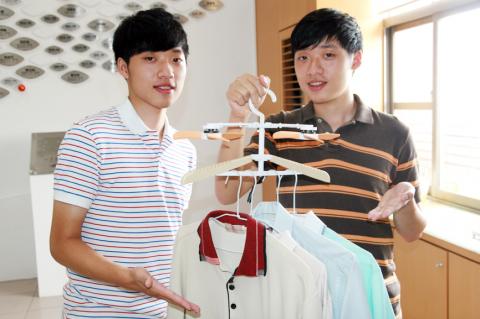 Twin brothers Tsai Kai-fan, left, and Tsai Kai-yu show off their clothes-drying invention at Far East University in Greater Tainan on Friday. The hanger uses small fans to help clothes dry faster.
Photo: Wu Chun-feng, Taipei Times
Tsai Kai-fan said the senior students often expressed grievances about how they had to wash and air-dry their clothes in hotel rooms because of event requirements, but still had half damp outfits by checkout time the next morning.
"Then we reached an epiphany after seeing Doraemon's bamboo propeller, and started to experiment with the device, which can speed up the drying time of wet clothes and is powered either by batteries or electricity," the pair said.
Experimentation showed that their brainchild could save about two-thirds of the time needed to air-dry clothes, compared with the natural drying method, and is effective regardless of weather conditions, they said.
The apparatus' portability was also a matter of great concern to the two young inventors.
In bid to enhance its portability, Tsai Kai-yu modeled the contraption on camera tripods that are made with foldable legs.
He also replaced plastic blades with ones made of polyurethane foam to improve the device's -operational safety.
The pair's invention has been flown to the US for the 2012 Invention and New Product Exposition, the US' largest invention show, on behalf of the their university.
Chen Yu-kang (陳玉崗), a professor in the school's department of innovative design and entrepreneurship management, said that if the electric fan hanger could be mass-produced, its production costs could be greatly reduced.
"Then, with a price tag of about NT$299, the product would stand a big chance of becoming a hit in the market, as well as creating substantial business opportunities," Chen said.
Translated by Stacy Hsu, staff writer
Comments will be moderated. Keep comments relevant to the article. Remarks containing abusive and obscene language, personal attacks of any kind or promotion will be removed and the user banned. Final decision will be at the discretion of the Taipei Times.