Taiwan seeking full upgrade for F-16s from US
FULL SERVICE WANTED: A defense industry source said that Taiwan would seek the full US$5.2 billion upgrade, but would do so in two distinct phases
The air force will procure the full US$5.2 billion upgrade package for its fleet of F-16A/B fighter jets notified to the US Congress in September last year, but will do so in two phases, the Taipei Times has learned.
This latest twist in the F-16 saga comes after reports in February said that the Executive Yuan had decided it would give the air force only US$3.7 billion to upgrade its 145 F-16A/Bs, forcing the military to trim some of the articles included in the US$5.2 billion package, which includes Active Electronically Scanned Array (AESA) radars, electronic warfare suites, air-to-air missiles and, more controversially, a variety of Joint Direct Attack Munitions (JDAM) kits.
Air Force Command Headquarters announced early last month that it had received an official answer from the US, which reportedly contained articles that reflected the US$3.7 billion allocated by the Executive Yuan.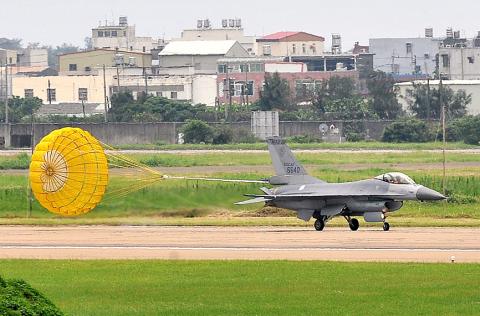 An F-16 takes part in a drill at Hsinchu Air Force Base on Wednesday.
Photo: Chien Jung-fong, Taipei Times
Taiwan is currently evaluating the contents of the letter and is expected to sign the letter of agreement within 45 to 60 days.
However, a defense industry source told the Taipei Times yesterday that Taiwan would still procure the entire US$5.2 billion upgrade, but would do so in two phases, with the second phase — worth about US$1.5 billion — taking place in two years.
Because the full package has already been notified, no second notification will be necessary for Taiwan to submit a letter of agreement for the second phase, the source said.
The electronic warfare suite is being specifically designed for Taiwan and will not be ready until 2016 or early 2017, the source said, adding that the development cost for the system is part of the retrofit package. The same suite would be installed on the F-16C/Ds that Taiwan has been seeking since 2006.
Comments will be moderated. Keep comments relevant to the article. Remarks containing abusive and obscene language, personal attacks of any kind or promotion will be removed and the user banned. Final decision will be at the discretion of the Taipei Times.