Sniffer canines trained to find tree root disease
Sniffer dogs trained by National Pingtung University of Science and Technology sniffed out brown root rot disease in trees on Wednesday, a feat their trainer described as globally unprecedented.
Brown root rot disease, caused by Phellinus noxius, was reported to be affecting trees in Chungshan Park (中山公園) in Pingtung County, and park officials asked the university to use its trained dogs to help find out exactly how many trees were infected.
Dog trainer Chi Wei-lien (祁偉廉) brought two beagles to the park and led them around each tree.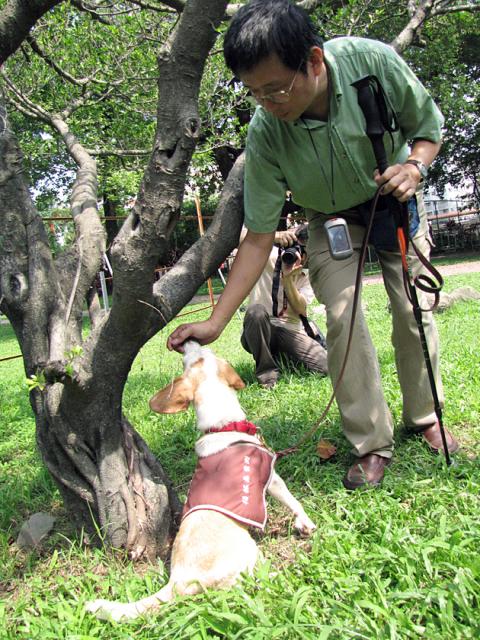 A tree inspector directs a sniffer dog at a tree in the Pingtung County's Zhongshan Park on Wednesday. Park authorities are concerned that some of the trees in the park have developed brown root rot disease.
Photo: CNA
When the dogs detected a sick tree, they sat down on the infected roots and waited for Chi to give them a treat as a reward.
"Within just six seconds, the dogs were able to sniff out the location of the brown root rot," Chi said, adding that he had not heard of dogs anywhere else in the world able to do that.
The idea to train the dogs came from the use of canines by truffle hunters. From this, Chi inferred that every type of fungus, including Phellinus noxius, has its own distinct scent. He then started training three beagle bitches, aged about five, using Phellinus noxius grown in the lab.
Energy and a fondness for eating are the top requirements when selecting dogs for the task, he said.
With more than 1,000 trees in the park, Chi said he expected it to take about three days to finish examining all of them.
Pingtung County Commissioner Tsao Chi-hung (曹啟鴻) also visited the park to learn about the extent of the infection. Sick trees must be cut down to prevent them from falling over and hurting people, he said.
Officials from the county's Public Works Department said they are hopeful the dogs will identify the infected trees before the disease runs rampant in the park.
Comments will be moderated. Keep comments relevant to the article. Remarks containing abusive and obscene language, personal attacks of any kind or promotion will be removed and the user banned. Final decision will be at the discretion of the Taipei Times.