Fetuses sold as good luck charms
BLACK MAGIC: An undertaker in Taipei reveals the shady underworld of black-magic rituals and its high demand for infant corpses that are used as talismans
The recent arrest of a British citizen in Bangkok accused of possessing the bodies of six babies for use in a black-magic ritual has shocked many in Taiwan because the suspect is of Taiwanese descent.
Chow Hok Kuen, 28, a British citizen born in Hong Kong of Taiwanese parents, was arrested in Bangkok's Chinatown on Friday and was being held for possession of human remains, Thai police said.
Authorities believe he was trying to smuggle the corpses to Taiwan.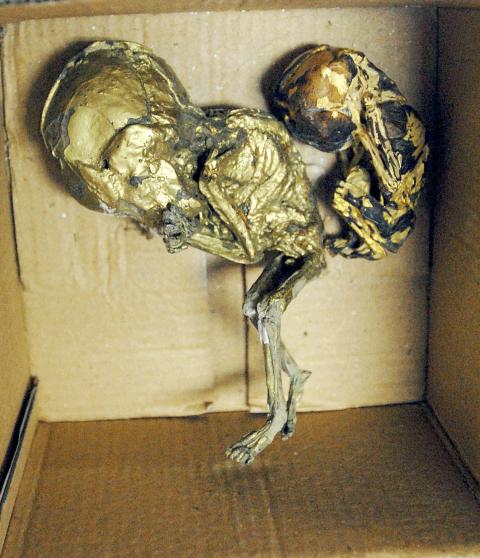 Thai police show the remains of two fetuses wrapped in gold leaf at a news conference in Bangkok, Thailand, following the arrest of a British citizen of Taiwanese origin at a hotel in the city's Chinatown on Friday.
Photo: Reuters
"The bodies are of children between two and seven months old. Some were found covered in gold leaf," said Wiwat Kumchumnan, sub-division chief of the Children and Women Protection unit.
The origin of the bodies was not clear.
Thai police had received a tip that infant corpses were being offered to wealthy clients through a Web site advertising black-magic services.
In Thai black-magic rituals, also observed in some Chinese communities, preserved fetuses are believed to bring good fortune to the owner and are often kept in shrines inside homes or businesses.
According to an undertaker in Taipei surnamed Peng (彭), smugglers of dead infant bodies into Taiwan typically made profits in two ways: One way is by melting gold and infusing it into the bodies and then taking the gold out after the bodies are in Taiwan. In other words, they are smuggling gold.
Another way is that they suture the body and preserve it from decomposing by dousing it with special medical liquid and infusing wax into them. The corpses can then be sold at a very high price to people who believe that possessing them will bring them good fortune.
He added that most of those bodies are stillbirths from abortions. Spiritualists buy them from hospitals or clinics to sell to people who believe that enshrining and worshipping a dead infant's body can make them rich.
According to Peng, a stillborn child's soul can hurt people, especially its parents, so the dead baby must be handled very carefully.
The method he employs in handling a child's body, he said, is to have the body cremated and the ashes sealed for a specific period of time before being poured into the sea. He added that if this ritual is not carried out to appease the stillborn child's soul, it could hurt living people.
Additional reporting by AFP
Comments will be moderated. Keep comments relevant to the article. Remarks containing abusive and obscene language, personal attacks of any kind or promotion will be removed and the user banned. Final decision will be at the discretion of the Taipei Times.