Agencies inspect colored water at Guanyin Beach
Responding to photographs taken by civilians from the air near Taoyuan County's Guanyin Beach (觀音海水浴場) on Saturday, showing polluted black water along the shore, the Environmental Protection Administration (EPA) said it had examined the water on Monday and would continue to investigate the source of the pollution.
Photographs of the polluted water, about 200m north of the beach, were shot from a hang glider on Friday and posted on the Internet by the owner, and picked up by the media on Monday.
Officials from the EPA's North Region Branch Inspection Bureau arrived at the beach on Monday morning to investigate the site and found a mixture of bluish-green and black-colored seawater stretching for about 1km along the shore.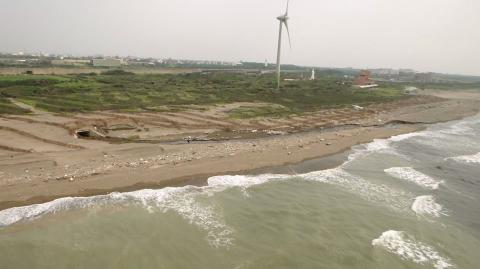 A photo taken from the air by a hang glider shows pollution from wastewater emerging from an outflow pipe at Guanyin Beach in Taoyuan County on Monday.
Photo courtesy of hang glider
Following the trail of colored water upstream, local environmental groups said they had found an underground pipe with some black water in it.
They said they suspected the polluted water might have been discharged from a textile mill located outside the Guanyin Industrial Park.
The EPA said the quality of the seawater tested at the site on Monday was considered normal, with a water temperature of 31.5°C and a pH level of 7.3.
It said wastewater had probably been illegally discharged by nearby factories located upstream from the beach.
Bureau director Chin-Lang Hsiao (蕭清郎) said although the seawater did not show any abnormalities at the time of inspection, further laboratory tests will be conducted to analyze the sampled seawater.
The area has also now been listed for focused inspection.
Bureau of Environmental Inspection Inspector General Chen Shyan-heng (陳咸亨) said that to protect the rare algal reefs along the shore from pollution by the numerous factories in Guanyin and Dayuan (大園) townships, the EPA and the local environmental protection agency had made a plan to strengthen inspections of water pollution along four rivers in the area.
The number of inspection officers at the bureau is limited, so the EPA encourages people to report cases of pollution or damage to the administration whenever they are discovered, Chen said.
The EPA said that if the laboratory results showed the pollution at Guanyin beach resulted from illegal wastewater discharge, the company or factory responsible would be fined under the Administrative Penalty Act (行政罰法).
Comments will be moderated. Keep comments relevant to the article. Remarks containing abusive and obscene language, personal attacks of any kind or promotion will be removed and the user banned. Final decision will be at the discretion of the Taipei Times.