Vessels being outfitted with HF-3s
'CARRIER KILLER': The fleet of Ching Chiang-class boats are the second group of vessels to be equipped with the 'carrier killer' missiles after the Cheng Kung-class frigates
The military has begun modifying its fleet of domestically made Ching Chiang-class patrol boats by equipping them with Hsiung Feng III (HF-3) ramjet-powered supersonic anti-ship missiles to counter large surface ships in the Taiwan Strait.
Developed by China Shipbuilding Corp — now known as CSBC Corp, Taiwan — in the 1990s, a total of 11 of the 500 tonne coastal patrol vessels entered service with the navy in 1999 and 2000. The ships were initially equipped with four HF-1 surface-to-surface missiles, one 40mm anti-aircraft gun and one 20mm gun.
In May last year, the Ministry of National Defense unveiled plans to outfit the navy's eight Cheng Kung-class frigates and a number of Ching Chiang-class vessels with the HF-3, Taiwan's "aircraft carrier killer" cruise missile developed by the Chungshan Institute of Science and Technology.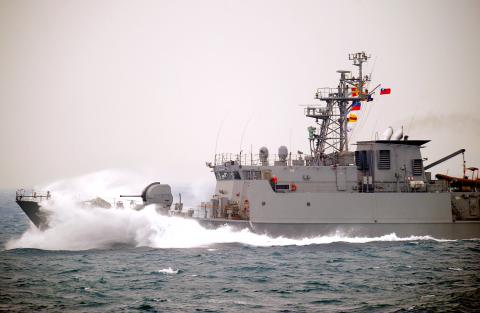 A Ching Chiang-class patrol ship takes part in a routine drill near Tsoying Naval Base in Greater Kaohsiung on Jan. 21 last year.
Photo: Chang Chung-yi, Taipei Times
Reports yesterday said modification work had begun on seven of the patrol boats, each of which is to be equipped with four HF-3 launchers, and that five Cheng Kung-class frigates had been outfitted with the missile so far as part of a NT$12 billion (US$406 million) program to arm the navy with 120 HF-3s.
A new 500 tonne radar-evasive fast attack corvette, currently at development stage under a project codenamed "Hsun Hai," or "Swift Sea," is also expected to be outfitted with eight HF-3s and HF-2s.
Light missile boats like the Ching Chiang, Hsun Hai and the 170 tonne Kuang Hua VI-class vessels launched in recent years are part of ongoing efforts to create an asymmetrical capability to counter China's increasingly powerful navy. Relatively slow destroyers and frigates with heavy displacement, including aircraft carriers, are seen as particularly vulnerable to asymmetrical strategies.
Although ministry sources have confirmed plans to deploy land-based HF-3s on the west and east coasts of Taiwan, the ministry denied reports last month that an extended range variant of the missile, currently at 300km, was under development.
A longer-range HF-3 would allow Taiwan to deploy the missiles on the eastern coast and aim them at the Taiwan Strait while using mountainous geography, such as that found in Hualien, as cover from missile attacks by China, thus limiting exposure of the launchers.
The HF-3 entered production in 2010. At least 250 are believed to be in service.
Comments will be moderated. Keep comments relevant to the article. Remarks containing abusive and obscene language, personal attacks of any kind or promotion will be removed and the user banned. Final decision will be at the discretion of the Taipei Times.