Leopard cat recovering well after being rescued
A leopard cat found last month in Miaoli County's Gongguan Township (公館) is recovering from injuries and dehydration, the Miaoli County Unique Animals Preservation Association said yesterday.
The leopard cat is an indigenous wild cat that is endangered and protected. According to research by National Pingtung University's Institute of Wildlife Conservation, there are fewer than 1,000 in the country.
Called leopard cats because of their leopard-like spots, the animals are marked with twin white stripes across the forehead and are slightly larger than domestic cats, but have long thick tails and are nocturnal carnivores.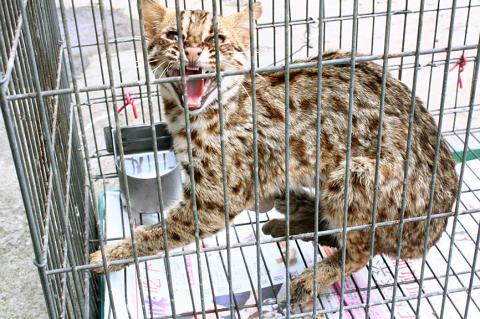 An injured leopard cat strikes an -aggressive pose in a cage as it recovers in Miaoli County yesterday.
Photo: Ho Tsung-han, Taipei Times
The association said it found the leopard cat on Cianshan (淺山) in Gongguan with its right front leg caught in a trap. Association director Lin Ching-chi (林清棋) alerted the county's Agriculture Department and sent the leopard cat to a veterinarian.
The mating season for leopard cats is from December to April, and the routes the cats take tend to follow the paths of their prey and are unpredictable, Lin said, adding that the leopard cat the association found could have been caught in the trap for as long as eight days.
There were maggots in its wounds and the cat was lucky that it rained recently or it would have died of dehydration, Lin said. After the veterinarian amputated the limb and injected the cat with nutrients, it gradually regained its health, he added.
Meanwhile, the county's Agriculture Department yesterday reminded the public that if they found leopard cats preying on domestic animals, they should not attempt to capture or kill them, but contact the local fire station.
Capturing or selling leopard cats is against the Wildlife Conservation Act (野生動物保育法) and is punishable with a prison sentence of six months to five years, along with a fine of NT$200,000 to NT$1 million, the department said.
Translated by Jake Chung, Staff Writer
Comments will be moderated. Keep comments relevant to the article. Remarks containing abusive and obscene language, personal attacks of any kind or promotion will be removed and the user banned. Final decision will be at the discretion of the Taipei Times.