Apache, Black Hawk helicopter sales moving ahead
Two US companies have won contracts to produce utility and attack helicopters for the military, in separate bids that will run through the end of 2014.
In a press release on Friday, Boeing Co said it had received a US$171.8 million firm-fixed-price contract to deliver AH-64D Apache Block III helicopters for the Taiwanese military.
Although the announcement did not specify the number of helicopters, it comes after Longbow Limited Liability Co, a joint -venture of Lockheed Martin Corp and Northrop Grumman Corp, won a contract in January for 15 Block III Longbow Fire Control Radar (FCR) systems for Taiwan, which at the time was the first international client for the advanced target acquisition system.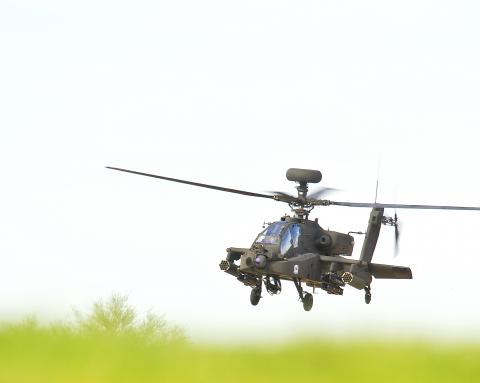 An AH-64D Apache Block III takes flight in this undated picture.
Photo: Boeing
Given this, analysts conclude that the Boeing contract involves 15 airframes, out of the 30 included in the US$6.4 billion arms package announced by the US in October 2008.
Taiwan has yet to place an order for the AGM-114L Hellfire missiles included in the package.
Unless it does so, the Apache's FCR capabilities will be essentially useless, a defense source has told the Taipei Times.
Meanwhile, Sikorsky Aircraft Corp announced it had received a US$43.2 million firm-fixed-price contract for engineering services to convert four UH-60M Black Hawk helicopters "to the specific unique configuration for Taiwan."
The US$48.6 million contract for the first four "green," or standard, airframes was announced in June last year. Conversion work ensures the product meets the requirements and specific -configurations sought by the procuring country, and usually pertains to navigation and communications systems.
The total cost for the four Black Hawks — the first segment of the 60 included in the January 2010 US$6.4 arms package — will be US$91.8 million, or US$23 million per aircraft.
A defense industry source told the Taipei Times yesterday that Taiwan remained fully committed to procuring all 60 UH-60Ms and that things were proceeding smoothly. Delivery of the first four Black Hawks is expected to begin toward the end of 2014.
Comments will be moderated. Keep comments relevant to the article. Remarks containing abusive and obscene language, personal attacks of any kind or promotion will be removed and the user banned. Final decision will be at the discretion of the Taipei Times.