Taiwanese shines in global initiative competition
GLOBAL AWARD: Gary Chien's team included sophomores from India, China and Pakistan, and the Taiwanese said he was honored to be able to represent his nation
When 19-year-old student Gary Chien (簡瑞廷) and four of his team members from New York University Abu Dhabi (NYUAD) signed up for the Hult Global Case Challenge, little did they know that their efforts would culminate in the presentation of an award by a former US president and a Nobel Peace Prize laureate — or that their proposal could improve the lives of countless people in Africa.
The annual competition, hosted by the Hult Business School in partnership with the Clinton Global Initiative and the Innovation, Excellence and Leadership Center, is described as the world's largest crowd-sourcing platform for social good. Its goal is to challenge teams of students from around the world to submit solutions to achieve the social and economic development goals of top non-governmental organizations in the areas of energy, education and housing.
Chien's team, which included sophomores from India, China, Pakistan and an NYU alumnus from Canada, won the top award for their solution to provide solar lighting to 1 million households in Africa by next year.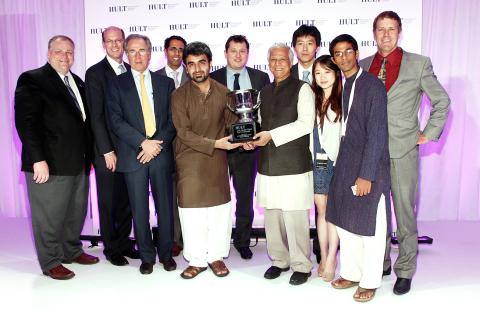 Nobel Peace Prize winner Muhammad Yunus, fifth right, awards a tropy to a team from New York University Abu Dhabi in New York on April 26. Taiwan's Gary Chien is fourth right, standing behind Yunus.
Photo courtesy of the Hult International Business School
About 4,000 teams from more than 130 countries entered the international competition this year. Chien's team was selected for its plan to create a strong network for after-sale customer care and maintenance for solar lamps. They conducted two research trips to Ethiopia and Kenya, during which they established the importance of building trust within rural communities, NYUAD said in a press release.
The NGO SolarAid, which aims to eradicate the use of kerosene lamps in Africa by the end of the decade, will use its share of a US$1 million grant to implement the team's plan.
Presenting the award to Chien's team in New York last week, former US president Bill Clinton pointed to the importance of what the winners' home countries could learn from such global cooperation. To cap things off, Nobel Peace Prize laureate Muhammad Yunus, the world renowned Bangladeshi economist, handed them the trophy.
In an e-mail to the Taipei Times yesterday, the maths and physics major also expressed his pride in being able to represent his country abroad.
"When [former] president Clinton announced us as the winner, he also mentioned each of our nationalities," he said. "I felt honored, as a Taiwanese, to be able to bring my country onto a global platform where everyone is devoted to changing the world."
"I find it very interesting that our team consists of a Taiwanese, Chinese, Pakistani, Indian and a Canadian. We come from countries that are perceived as conflicting, and yet we could collaborate as a team and try to impact people on the other side of the world," Chien wrote.
In his second year of studies, Chien — who graduated from the Affiliated High School of National Taiwan Normal University before moving on to NYUAD — said he would likely go straight to graduate school after college, with a possible return to his country of birth afterwards.
"I'd be more than willing to go back and work in Taiwan to contribute my share to the country where I was born and raised," he said.
Comments will be moderated. Keep comments relevant to the article. Remarks containing abusive and obscene language, personal attacks of any kind or promotion will be removed and the user banned. Final decision will be at the discretion of the Taipei Times.