Special forces receive new light combat vehicle
EXPENSIVE TOY? Some local media reports have questioned the vehicle's US$60,000 price tag, and have raised concerns about a lack of maneuverability
The Ministry of National Defense has begun delivering a new indigenous light combat vehicle to be used by special forces for off-road combat operations.
The unarmored, 1,225kg four-wheel-drive Special Combat and Assault Vehicle (SC-09A) was locally manufactured, with an initial contract for 56 vehicles, Defense News reported yesterday, adding that a ministry source would not reveal the identity of the manufacturer.
The 871 Airborne Group under Special Forces Command is the first unit to receive the three-seat vehicle, which comes with puncture-proof wheels, an anti-blast fuel tank, night-vision equipment and a searchlight, the article said. The vehicle has right passenger and rear gun mounts that can be fitted with MK-19 40mm grenade launchers and T-74 machine guns, Defense News said, adding that a third gun rack, which can accommodate three T-91 assault rifles, was located in the rear compartment.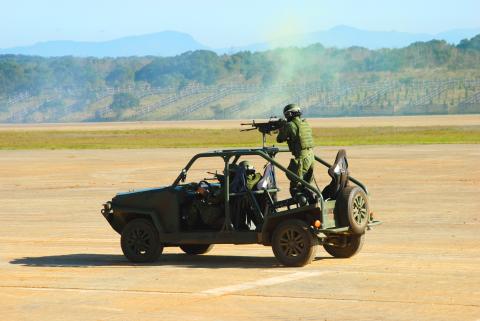 Taiwan's new Special Combat and Assault Vehicle is shown in this undated picture taken at an undisclosed location.
Photo courtesy of the Ministry of National Defense
The 4.1m-long and 2.2m-wide SC-09A can be carried on C-130 Hercules transport aircraft and CH-47SD Chinook transport helicopters.
Some media reports have criticized the vehicle, which comes at a price tag of US$60,000 per unit, as too expensive. Concerns about its maneuverability have also been raised, the report said.
The ministry first unveiled the vehicle to some local reporters on March 9.
Comments will be moderated. Keep comments relevant to the article. Remarks containing abusive and obscene language, personal attacks of any kind or promotion will be removed and the user banned. Final decision will be at the discretion of the Taipei Times.