Ex-employee at TFD faces deportation
SINGLE DAD: A US citizen's life in Taiwan turned into a legal nightmare after government agencies said he had worked illegally for the Taiwan Foundation for Democracy for years
A foreign national and single father to a Taiwanese son is facing deportation for allegedly working illegally for the government-linked Taiwan Foundation for Democracy (TFD) in a case that raises questions over how the government handled the case.
The problems for Ben Hlavaty, a US citizen, began when he and his Taiwanese spouse divorced in May 2008. Until then, Hlavaty had an Alien Resident Certificate (ARC) through his marriage and did not need a work permit to work at the TFD, his employer since December 2007.
Aware that following his divorce his ARC would only be valid until Oct. 25 that year, Hlavaty informed his employer that if they wished him to continue working for them, TFD would have to help him apply for a work permit. The foundation subsequently contacted the Ministry of Foreign Affairs (MOFA), which founded the TFD in 2002, and asked it to assist Hlavaty.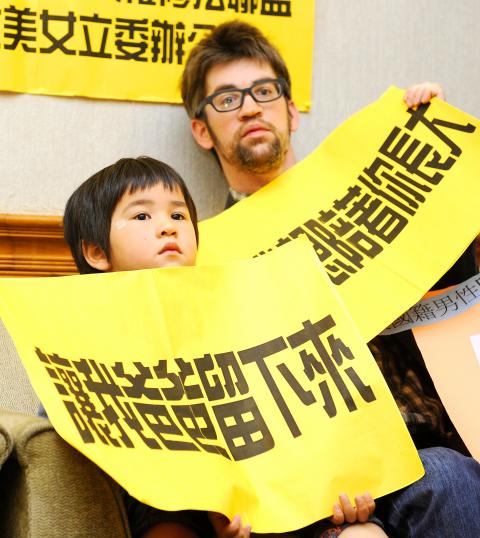 Former Taiwan Foundation for Democracy employee Ben Hlavaty and his child attend a press conference yesterday at the legislature calling on the government to amend the law to allow foreign nationals with children who are Taiwanese citizens to live in Taiwan. The sign held by the child reads, "Let my daddy stay."
Photo: George Tsorng, Taipei Times
On Oct. 20 the same year, MOFA sent a notice to the National Immigration Agency (NIA) informing it that the foundation was extending Hlavaty's employment for one year, until Oct. 24, 2009, and that a work permit should be issued. Six days later, Hlavaty left Taiwan for Hong Kong to reapply for an ARC and a new certificate was issued.
In October the following year, MOFA once again submitted the paperwork to the NIA so that Hlavaty could work for another year, or until Oct. 24, 2010, which again was approved.
However, on Oct. 21, 2010, the TFD informed Hlavaty it wished to terminate his employment and sent a notice to MOFA requesting the extension of his ARC until Dec. 31.
Hlavaty says that Huang Teh-fu (黃德福), appointed new president of the foundation by the administration of President Ma Ying-jeou (馬英九), fired him without cause and denied him his three-month severance pay. Hlavaty filed a petition with the Taipei City Department of Labor for wrongful dismissal.
Hlavaty and the TFD reached a settlement following mediation. Hlavaty left Taiwan on Dec. 19, 2010, and re-entered on a multiple-entry visa in January last year.
However, in May, the city's Department of Labor sent him a notice stating he was suspected of violating Article 43 of the Employment Services Act (就業服務法) during his employment at the TFD.
"[They] demanded an explanation as to why I had been illegally working during my three-year employment with the Foundation," Hlavaty said in a press release yesterday.
Then, in July last year, he was fined NT$30,000 for not having a permit through the proper channels."
"On the advice of civil servants, I submitted an appeal, believing that the mistake would clear up," he wrote.
"Then the CLA [Council of Labor Affairs] slapped me with a three-year work ban and ordered me to leave Taiwan within fourteen days," he wrote.
After a petition with the council's appeals committee failed, Hlavaty turned to the Executive Yuan, which turned him down on the grounds that his appeal to the council was written incorrectly. It ordered the deportation procedures to continue.
After weeks in limbo, Hlavaty's appeal with the Taipei High Administrative Court was turned down on Thursday last week.
An official with the court told the Taipei Times yesterday that Hlavaty would soon receive the ruling document, adding that he could appeal to the Supreme Administrative Court.
Hlavaty maintains he did nothing wrong.
"[My defense] produced copies of my labor insurance from my foundation days, which must have meant that the Bureau of Labor Insurance, who [sic] is subordinate to the CLA, had found me legal during those three years," he wrote.
"If I am going to be separated from my boy for my work in promoting Taiwan's democracy and human rights at the request of MOFA, then I will go down fighting as an example to Isaac," he wrote.
Hlavaty has dual custody of his son with his former wife.
Additional reporting by Rich Chang, with translation by Jake Chung, Staff Writer
Comments will be moderated. Keep comments relevant to the article. Remarks containing abusive and obscene language, personal attacks of any kind or promotion will be removed and the user banned. Final decision will be at the discretion of the Taipei Times.