'One country, two areas' proposed by Wu Po-hsiung
Former Chinese Nationalist Party (KMT) chairman Wu Poh-hsiung (吳伯雄) yesterday met with Chinese President Hu Jintao (胡錦濤) in Beijing at the annual forum between the KMT and Chinese Communist Party (CCP), during which he proposed that cross-strait matters be tackled under the banner of "one country, two areas (一國兩區)."
Both Wu and Hu stressed the importance of continued cross-strait development under the "one China" principle. Wu said the two sides had different interpretations of "one China," but both agreed to seek a consensus and put aside their disputes.
Wu said Taiwan's current cross-trait policies are based on the Act Governing Relations Between the Peoples of the Taiwan Area and the Mainland Area (台灣地區與大陸地區人民關係條例), which uses the concept of "one country, two areas" as its legal basis.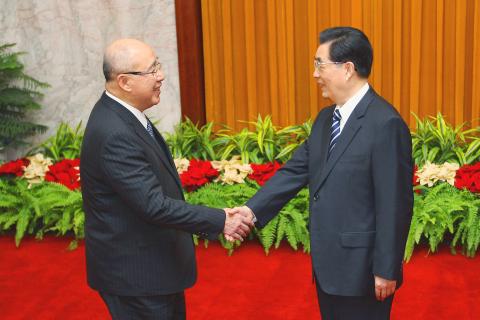 Chinese President Hu Jintao, right, shakes hands with former Chinese Nationalist Party (KMT) chairman Wu Poh-hsiung before a meeting at the Great Hall of the People in Beijing yesterday.
Photo: AFP
That the Mainland Affairs Council and not the Ministry of Foreign Affairs is in charge of cross-strait policy indicates that "cross-strait relations are not undertaken on a nation-to-nation basis but rather a special relationship basis," he added.
Wu urged China to be understanding with regards to Taiwanese efforts to expand its international space.
Wu, who arrived in Beijing on Wednesday, defended President Ma Ying-jeou's (馬英九) efforts to promote cross-strait peace and said the two sides should cherish what he called "the most peaceful and stable period" in cross-strait development for 60 years.
The annual forum, a regular meeting was established by then-KMT chairman Lien Chan (連戰) and Hu in 2005 when Lien led an "ice-breaking" visit to Beijing.
When asked to comment about Democratic Progressive Party (DPP) spokesperson Lo Chih-cheng's (羅致政) recent visit to China, Wu said the KMT welcomed the efforts of all parties to promote cross-strait exchange.
"The KMT welcomes members from other political parties to visit mainland China for cross-strait exchanges and strengthening mutual understanding. Such exchanges will help reduce differences and form a consensus within Taiwan," he said.
In his capacity as an academic, Lo visited China's Yunnan Province last week to attend a two-day academic forum on cross-strait relations after receiving permission from the DPP. The visit was seen as symbolic because Lo was the first DPP official to visit China since 2008.
Additional reporting by CNA
Comments will be moderated. Keep comments relevant to the article. Remarks containing abusive and obscene language, personal attacks of any kind or promotion will be removed and the user banned. Final decision will be at the discretion of the Taipei Times.