No change to minimum wage system
POINTING FINGERS: One lawmaker said firms had been forced to close or relocate because of the -increasingly higher wages they are required to pay foreign workers
Executive Yuan spokesman Philip Yang (楊永明) said yesterday the government had no plan to decouple foreign workers' wages from the minimum wage in Taiwan because such a policy would be "unfeasible."
"From the perspective of national law and international norms, it is a complex legal and ethical issue that raises human rights concerns. The Executive Yuan has the same view as the Presidential Office on this issue," Yang told a press conference.
"There is no point of divergence on the issue between the Presidential Office and the Executive Yuan," he added when asked to comment on reported disagreements over the issue between President Ma Ying-jeou (馬英九) and Premier Sean Chen (陳冲).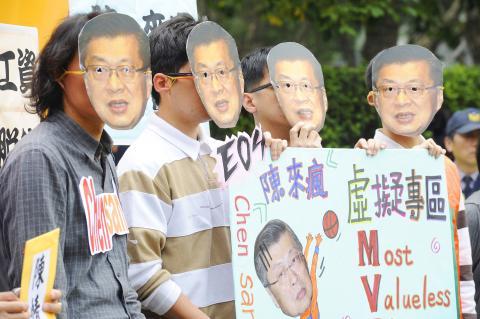 Workers' rights activists wearing masks of Premier Sean Chen perform a skit outside the Executive Yuan in Taipei yesterday, protesting comments he made over a possible separation of minimum wage levels for local and foreign workers.
Photo: George Tsorng, Taipei Times
Local media reported that during the Chinese Nationalist Party's (KMT) Central Standing Committee meeting on Wednesday, Ma said he supported Council of Labor Affairs Minister Jennifer Wang (王如玄) in insisting on retaining the same minimum wage system for local and foreign workers, preferring to focus on brand names and innovation as long-term strategies to enhance the country's competitive edge rather than to engage in a race to the bottom in terms of wages.
Ma's remarks came one day after Chen said in the legislature that the only way to adopt a two-track minimum wage system would be to establish "virtual offshore" areas to exclude the application of the minimum wage rule under the Labor Standards Act (勞動基準法) to employees in those areas.
Chen mentioned the idea again during an interview with the CtiTV on Wednesday night.
The delinking of the minimum wage for domestic and foreign workers is not allowed under the current legal system, but it was worth considering under what circumstance the wage rules for foreign workers could be considered separately of minimum wage regulations, he said.
"That's why I proposed the idea of 'virtual offshore' area," he said.
Chen said the idea of a "virtual offshore area" was an alternative to a possible free economic demonstration zone, a pilot project the government is looking to implement as it prepares the way for accession to a future Trans-Pacific Partnership trade bloc.
The proposal that would allow for free movement of capital, personnel, goods, and information is being formulated by Council of Economic and Development Minister Yiing Chii-ming (尹啟銘) and should be ready in about a year, Chen said, adding: "We will communicate with concerned parties about the issue."
Taking issue with Chen over his remark that a "virtual offshore area" would have to be established for a dual wage system to be feasible, a labor group staged a protest outside the Executive Yuan yesterday morning.
Taiwan Labor Front secretary-general Sun Yu-lien (孫友聯) said that a dual wage system would benefit only employers. It would legitimize exploitation of migrant workers and dissuade employers from hiring local workers.
Sun said Chen's comment was "outrageously rash" and did not offer a likely way to resolve the problem.
The minimum wage debate was triggered last week when legislators proposed the introduction of a dual minimum wage system to help protect local workers.
KMT Legislator Lo Shu-lei (羅淑蕾) said that Taiwanese companies have been forced to close or move overseas because of -increasingly higher wages for foreign workers, which in turn has cost domestic workers their jobs. The legislators suggested that the business sector be left to determine the minimum wage for foreign workers.
Additional reporting by CNA
Comments will be moderated. Keep comments relevant to the article. Remarks containing abusive and obscene language, personal attacks of any kind or promotion will be removed and the user banned. Final decision will be at the discretion of the Taipei Times.