Justin Lin faces arrests if he returns: MND
DEFECTOR: Lin had committed treason under military law, and would be arrested immediately and face military prosecution upon entering Taiwan, the ministry said
Justin Lin (林毅夫), who defected to China in 1979 and currently works as a vice president at the World Bank, would be arrested and face charges of treason if he came back to Taiwan, the Ministry of National Defense (MND) said yesterday.
At a legislative meeting on March 7, Chinese Nationalist Party (KMT) Legislator Chang Ching-chung (張慶忠) urged the government to allow Lin to return to Taiwan on humanitarian grounds. Mainland Affairs Council Minister Lai Shin-yuan (賴幸媛) said at the time that while the council did not oppose Taiwanese who have lived in China for a long period of time returning to the country to visit family, Lin's case was a military matter and the council respected the ministry's position.
Lin's wife, Chen Yun-ying (陳雲英), said in Beijing on Saturday that Lin was scheduled to leave his post at the World Bank in June and his greatest wish after retirement was to come back to Taiwan.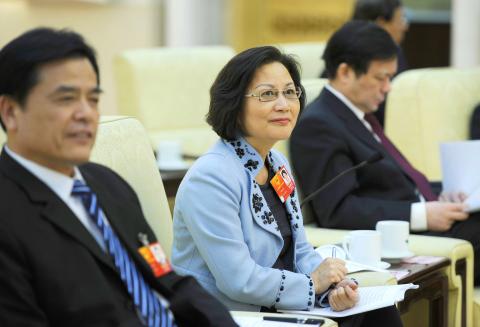 Chen Yun-ying, center, wife of Justin Lin, a vice president at the World Bank, attends a meeting at the annual session of the National People's Congress at the Great Hall of the People in Beijing on Saturday.
Photo: Liu Jin, AFP
Chen, who serves as a member of China's National People's Congress, said she and her husband had long dreamed of returning to Taiwan.
Minister of National Defense Kao Hua-chu (高華柱) told the legislature's Foreign Affairs and National Defense Committee meeting yesterday that Lin had committed treason under military law and was "still committing the crime."
Lin would be arrested immediately and face military prosecution upon entering Taiwan, Kao added.
Lin defected to China in 1979 when he was serving as an army captain on the outlying island of Kinmen. After serving as an economist in Beijing, he became a vice president and chief economist at the World Bank.
In May 2002, Lin filed an application from Beijing to return to Taiwan to attend his father's funeral. Taiwanese authorities approved his application, but warned that he could face legal consequences if he returned. Lin decided not to risk detention and did not attend his father's funeral.
Lin's defection would be subject to a death sentence, life sentence or imprisonment for more than 10 years according to the Criminal Code of the Armed Forces, Taiwan Solidarity Union (TSU) caucus whip Hsu Chung-hsin (許忠信) said.
Hsu said the ministry listed the former company commander as "missing" in 1979 when he defected and paid his family compensation of NT$470,000.
Lin's family never returned the compensation and his case was not classified as a defection until Nov. 8, 2002, by the Military High Court, Hsu said. That means the 30-year statute of limitation on his case has not expired.
Allowing the Lin family to return would be seen as support for China's "united front" strategy and caving in to pressure from Beijing in the guise of a "humanitarian" cause, TSU Legislator Huang Wen-ling (黃文玲) said.
The ministry tried to have Lin extradited after Taiwan and China signed an agreement on judicial assistance, but the request was rejected by Beijing, Democratic Progressive Party Legislator Hsueh Ling (薛凌) said.
China blatantly rejected Taiwan's request to extradite four defectors: Lin, former army Lieutenant Wang Yi-hung (王宜宏) and two fighter pilots, Huang Chih-cheng (黃植誠) and Lin Hsien-shun (林賢順), Hsueh said.
Hsueh added that the ministry was suspected of a cover-up in Lin's case, as it had initially assessed that the case was a defection.
Comments will be moderated. Keep comments relevant to the article. Remarks containing abusive and obscene language, personal attacks of any kind or promotion will be removed and the user banned. Final decision will be at the discretion of the Taipei Times.