Pedaling wife 12km part of octogenarian's routine
An 82-year-old farmer from Sinying District (新營), Greater Tainan, has been pedaling 6km to the city center on a tricycle for the past 18 years so that his wife could receive medical treatment.
Chao Shen Chin-liu (趙沈金柳), 78, has walking disabilities resulting from spinal surgery, a condition that is exacerbated by her age, and is unable to ride on a motorcycle.
In light of this, her husband, Chao Shui-sheng (趙水盛), takes her to a downtown clinic — 6km there and 6km back — whenever she needs medical treatment.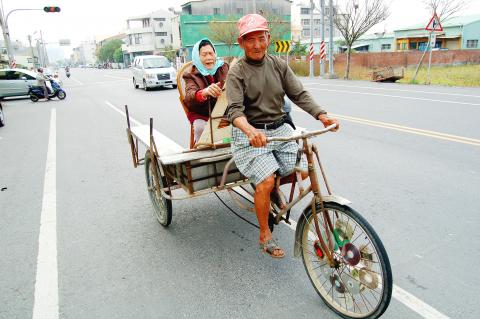 Octogenarian farmer Chao Shui-sheng gives his 78-year-old wife, Chao Shen Chin-liu, a ride to a clinic in Sinying District, Greater Tainan, on Tuesday.
Photo: Yang Chin-cheng, Taipei Times
To enhance traffic safety as he escorts his wife, Chao Shui-sheng has placed several CDs on his tricycle's front wheel as reflectors, along with a warning triangle reflector. Aside from this, a wicker chair was installed on the back for his wife to sit on.
Pedaling 12km may seem to be an easy task for people in good physical condition, but Chao Shui-sheng is in his 80s and has a disability certificate because of poor vision in his right eye, and weak vision in his left — so much so that everything beyond 5m is a blur.
Despite the physical barriers, Chao Shui-sheng said he did not feel tired from his long-distance pedaling.
On the couple's cycling route to the clinic, the husband occasionally glances back to check on Chao Shen Chin-liu seated behind him. Upon their arrival at the clinic, Chao Shui-sheng reverses his tricycle to the front entrance, then lends a hand to his wife as she dismounts and proceeds into the clinic with a walking stick.
"Grandpa is very thoughtful so that grandma can have the chance to get some air outside. Remember to treat him nicely," nurses at the clinic said to Chao Shui-sheng's wife, adding the elderly couple share a close connection.
"So long as I can move, and can cycle, I will keep on pedaling my tricycle to transport my wife," Chao Shui-sheng said, with the 78-year-old wife expressing gratitude to her husband for taking care of her during their 60 years of marriage.
Cho Chun-mou (周俊牟), a resident of Sinying's Piliao Borough (埤寮), said the couple's lifelong dedication to one another could serve as an inspiration and example to others amid the high divorce rate in Taiwanese society.
Translated by Stacy Hsu, staff writer
Comments will be moderated. Keep comments relevant to the article. Remarks containing abusive and obscene language, personal attacks of any kind or promotion will be removed and the user banned. Final decision will be at the discretion of the Taipei Times.