Ma apologizes for KMT wrongs, White Terror era
PAST TRAGEDIES: The KMT chairman said the party owed all the country's democracy pioneers an apology, vowing to continue uncovering the truth and compensate victims
President Ma Ying-jeou (馬英九) yesterday apologized for the bad treatment of democracy pioneers by the previous Chinese Nationalist Party (KMT) regime and promised to continue efforts to unveil the truth behind past tragedies.
Ma was addressing the inauguration of a memorial center paying tribute to activist Lei Chen (雷震), who was accused of sedition and sentenced to 10 years in prison for publishing a magazine trumpeting democracy in 1960.
The memorial hall and research center were established to honor him on the 33rd anniversary of his death.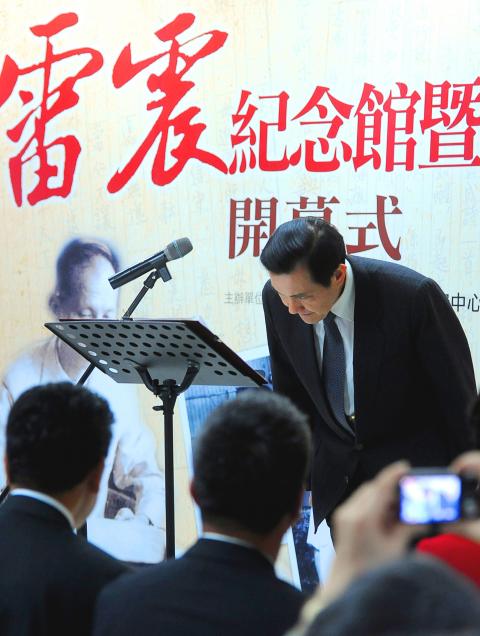 President Ma Ying-jeou apologizes for the past repression of democracy advocates at the opening of a memorial hall for democracy pioneer Lei Chen in Taipei yesterday.
Photo: Wang Min-wei, Taipei Times
Ma said the establishment of the center at National Chengchi University was of great significance, because the university used to be a school for the KMT.
"[The KMT] owes Lei Chen an apology and as president and KMT chairman, I offer my apology to let people know that the government is willing to face history and correct past mistakes with honesty," Ma said.
The president stressed the government's efforts to compensate victims of the 228 Massacre and White Terror era as it uncovers the truth, and promised to carry out measures related to transitional justice.
"The nation paid a price during the 228 Massacre and White Terror era and the protection of human rights will be a major topic for the nation's future development," he said.
Lei, a KMT member, had been charged by the KMT authorities with sedition for publishing the opposition Free China (自由中國) magazine and launching the China Democratic Party.
He passed away in 1979 at the age of 81.
In 1998, then-Taipei mayor Chen Shui-bian (陳水扁) began seeking national compensation for Lei on his behalf and honored him as a pioneer of democracy after the DPP came into office in 2000.
Former premier Yu Shyi-kun and Lei's daughter, Lei Mei-lin (雷美琳), also attended the ceremony yesterday.
Lei Mei-lin said the family had chosen to forgive the KMT in the name of social harmony.
Comments will be moderated. Keep comments relevant to the article. Remarks containing abusive and obscene language, personal attacks of any kind or promotion will be removed and the user banned. Final decision will be at the discretion of the Taipei Times.