Union formed for higher education professionals
A trade union comprised of faculty and staff from the nation's institutes of higher education was officially established yesterday, calling for better labor conditions, democratic governance of universities, and academic freedom and fairness in distributing the nation's educational resources.
According to Taiwan Higher Education Union statistics, there are at least 60,000 full-time and part-time professors, 30,000 staff and 120,000 research assistants and part-time workers in the country's higher education institutes.
However, the number of contract or part-time faculty and staff is rapidly increasing, causing labor conditions to worsen in the past few years, it said.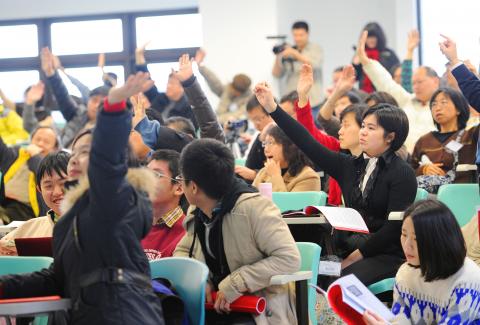 School employees attending the founding meeting of the Taiwan Higher Education Union vote during the meeting yesterday.
Photo: Lo Pei-der, Taipei Times
There were 41,822 full-time and 27,111 part-time university faculty in 2001, but last year there were 49,929 full-time and 44,215 part-time university faculty, a 63 percent -increase in the number of part-time faculty, the union said.
At the establishment meeting held on National Taiwan University campus yesterday, Taiwan Higher Education Union preparatory committee convener Tai Po-fen (戴伯芬), a professor in the Department of Sociology at Fu Jan Catholic University, said the trade union was established because of an increasing number of cases of unreasonable dismissal of faculty, unreasonable pressure to produce research papers published in the Social Sciences Citation Index's (SSCI) journals and other institutional problems.
"The main origin of these problems is the Ministry of Education," National Chung Cheng University associate professor of politics Chen Shang-chih (陳尚志) said, adding that one major problem was the unbalanced distribution of higher education resources, with the higher-ranking schools getting most of the educational budget and research projects.
According to National Chung Cheng University Department of Mass Media associate professor and Taiwan Media Watch chairman Kuan Chung-hsiang (管中祥), a critical problem is the over-rigid accreditation system for departments and faculty, causing many professors to aim only at a few certain goals that the accreditation system rates, such as publishing papers in SSCI-listed journals.
Kuan said a large part of the accreditation system focused on research results and other aspects such as teaching.
"Some people say it's ivory tower research, but with the rigid accreditation standards, it's like forcing the faculty to do research in a small room up in the ivory tower," Kuan said.
Comments will be moderated. Keep comments relevant to the article. Remarks containing abusive and obscene language, personal attacks of any kind or promotion will be removed and the user banned. Final decision will be at the discretion of the Taipei Times.