Blue sea slug makes debut in Taiwan
The discovery of a distinctive sea slug off Siaoliouciou Island (小琉球) in Pingtung County is shedding light on climate change, a scientist said.
Although Glaucus atlanticus, the only member of the genus Glaucus, is usually found in tropical areas, it had never previously been spotted in Taiwanese waters.
Wang Tien-cheng (王添正), a bed-and-breakfast owner and tour guide, noticed a group of about 60 Glaucus atlanticus near the Duozaiping intertidal zone (肚仔坪潮間帶), while taking some customers on a tour.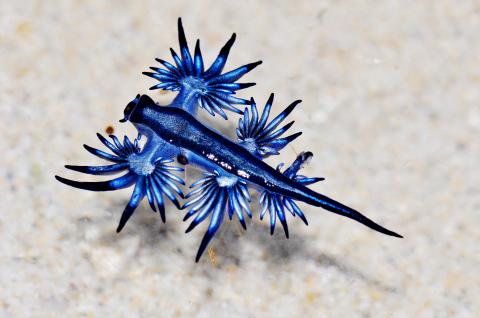 A Glaucus atlanticus sea slug is pictured on Sunday in the waters off Siaoliouciou Island, Pingtung County. This was the first time the creature is known to have appeared in Taiwanese waters.
Photo: Courtesy of Lo Liu-chih
The 37-year-old Wang also has 11 years of experience guiding underwater snorkeling tours and he often posts pictures of the scenic beauty of the island on his Facebook page.
After giving some of the slugs to Lo Liu-chih (羅柳墀), an assistant professor at National Kaohsiung Normal University's department of geography, Lo's research team confirmed that it was the first time Glaucus atlanticus had been seen in the Siaoliouciou area.
Announcing the discovery on Sunday, Lo said that Glaucus atlanticus was first discovered in 1777 by European academics.
Pointing to the slug's three pairs of symmetrical, protruding hand-like limbs, as well as its vibrant blue tail, Lo said these feature has contributed to the origin of the slug's name.
The Europeans who discovered the sea slug felt it resembled Glaucus, a fisherman in Greek mythology who after ingesting a magical herb which could bring fish back to life, became immortal and grew fins in place of his arms and legs, according to Roman poet Ovid.
Lo said warming seawater caused by climate change could explain the northward migration of Glaucus atlanticus, but he added that an abundance of Portuguese man-o'-war — the sea slugs favored prey along with velella, a type of jellyfish — in the waters around Siaoliouciou could also account for the presence of the sea slug.
Glaucus atlanticus are immune to the man-o'-war venom and they even have an organ which allows them to store the venom, giving the sea slugs the ability to deal a far stronger sting than the man-o'-war,
Lo warned that any observation of the slug should be done with extreme caution.
Lo also said people should avoid coming into physical contact with the slug and added that Glaucus atlanticus is not edible.
Translated by Jake Chung, staff writer
Comments will be moderated. Keep comments relevant to the article. Remarks containing abusive and obscene language, personal attacks of any kind or promotion will be removed and the user banned. Final decision will be at the discretion of the Taipei Times.