2012 ELECTIONS: Chief international observer lambasts Paal
The head of an international delegation of electoral observers yesterday said remarks by a visiting former American Institute in Taiwan (AIT) director concerning today's presidential election were "inexcusable" and were contrary to US commitments to Taiwan's democracy.
Frank Murkowski, head of the international delegation for the International Committee for Fair Elections in Taiwan (ICFET), called a press conference after former AIT director Douglas Paal strongly endorsed in a TV interview the so-called "1992 consensus" adopted by the Chinese Nationalist Party (KMT), while calling the "Taiwan consensus" proposed by Democratic Progressive Party (DPP) presidential candidate Tsai Ing-wen (蔡英文) "impractical."
Paal, who was invited by the government-affiliated Prospect Foundation to lead a delegation of monitors, also raised doubts about Tsai's ability to ensure stability across the Taiwan Strait and insinuated that Washington was apprehensive about a DPP victory in the election.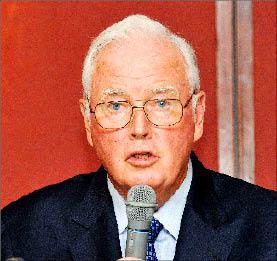 Former US senator Frank Murkowski takes questions at a press conference in Taipei yesterday.
Photo: Chien Jung-fong, Taipei Times
While describing the democratic process in Taiwan as "orderly" and "energetic," Murkowski said the past two days had seen the emergence of "surprising activity."
"I take strong issue with any inference of US policy favoring any candidate or party," the former US senator told the press conference.
"That is simply not the case," he said, adding that AIT Director William Stanton had reiterated to him by telephone yesterday that the AIT remained neutral in the election, while US Assistant Secretary of State for East Asia and Pacific Affairs Kurt Campbell has also made comments reaffirming Washington's neutrality.
Murkowski said the comments by Paal, now vice president for studies at the Carnegie Endowment for International Peace, were his own and that to suggest they reflected Washington's view was inappropriate.
On Paal's contention that if Tsai were elected the US would be "massively and quickly engaged to try to help her come to a formula that would preserve [cross-strait] peace and stability," Murkowski said the remarks were "condescending" and that Tsai was a seasoned politician who was "perfectly capable to find a solution" to relations with Beijing.
Murkowski also dismissed as false Paal's suggestion that a "leak" to the Financial Times by a senior US official raising concerns about Tsai's ability to ensure peace across the Strait was a common view in Washington.
"This is editorializing to say the least," Murkowski said, also taking exception with Paal's reference to Tsai's proposed "Taiwan consensus" as "too vague" to make Washington comfortable.
"I can assure you that Washington is never comfortable with anything," the 78-year-old former senator said.
The "Taiwan consensus" represents an effort by Taiwanese to determine their future by democratic means, he said, adding that while the "1992 consensus" might have made sense in 1992, "things change."
Paal's comments were "careless" and "inexcusable," he said, adding that it "challenges credulity [that Paal would presume] to speak for my government and the vast majority of Americans who have vast admiration for Taiwan's democracy."
They could also raise fears among Taiwanese voters over Washington's commitment to the Taiwan Relations Act or Beijing's reaction to the vote, he said.
Murkowski reiterated the ICFET's mandate as an impartial body that does not favor any party or candidate, and raised issues with the delegation led by Paal, saying it was "quite contrary to the mission of a group that does not support any party.
Comments will be moderated. Keep comments relevant to the article. Remarks containing abusive and obscene language, personal attacks of any kind or promotion will be removed and the user banned. Final decision will be at the discretion of the Taipei Times.