2012 ELECTIONS: Paal endorses '1992 consensus'
'TOO VAGUE': The former AIT director described Tsai Ing-wen's proposed 'Taiwan consensus' as a way of saying that she has no desire to reach cross-strait agreements
A former US official yesterday strongly endorsed the so-called "1992 consensus" advocated by President Ma Ying-jeou (馬英九), while saying Democratic Progressive Party presidential candidate Tsai Ing-wen's (蔡英文) proposed "Taiwan consensus" was vague.
Douglas Paal, vice president for studies at the Carnegie Endowment for International Peace who served as director of the American Institute in Taiwan from 2002 to 2006, weighed in on one of the main issues in the election when he talked about cross-strait relations during an interview with CtiTV.
Tsai has proposed a "Taiwan consensus" that highlights the democratic process of decision-making on cross-strait policies and rejects the "1992 consensus," which she says exists only between the Chinese Communist Party (CCP) and the Chinese Nationalist Party (KMT) to impose a "one China" framework.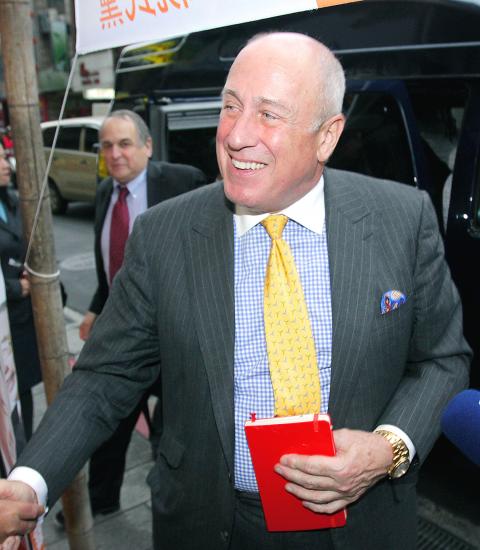 Former American Institute in Taiwan director Douglas Paal visits the campaign headquarters of People First Party (PFP) presidential candidate James Soong in Taipei yesterday.
Photo: CNA
When Ma took office in 2008, he quickly acknowledged the "1992 consensus," calling it a formula that allows Taiwan and China to interpret "one China" in their respective way and serving as a basis for developing cross-strait ties.
Sixteen cross-strait agreements were signed during his term.
In the interview, Paal described the "Taiwan consensus" as "a way of saying [that Tsai has] no desire to reach cross-strait agreements."
"The US looks at the 'Taiwan consensus' and we know that it is not possible, because we know Taiwan was deeply divided about its future relations with China," he said, adding the concept conflicts with Tsai's comments during her campaign that she would continue the current cross-strait process if elected.
China also opposes the "Taiwan consensus" and calls it a "game" not only because it is impossible in the medium term, but also because it allows for independence, he said.
"I, too, don't see a basis for a 'Taiwan consensus,'" Paal said.
In Washington, "everybody hopes Taiwan can have a consensus. Everyone would like Taiwan to be of one mind about its future, but it's still a remote possibility. Maybe decades will be required before something like a consensus can be formed," he said.
Paal said he thinks highly of the "1992 consensus," adding that it has been an "effective means" for two sides that are at odds on ways to cooperate while holding on to their own principles.
This is what the US and China have done on several occasions, Paal said, citing as an example the way the two countries have found a way to cooperate even when they have big disagreements, such as over US arms sales to Taiwan.
Paal said Chinese officials had signaled several times last year that they would like to open the door for discussions with the DPP on different formulas "because they were aware that Dr Tsai has criticized [the] 1992 consensus," but the formula was not forthcoming at the end of the campaign and then Chinese officials became more vocal and insisted that the "1992 consensus" must be respected.
He did not elaborate.
If Tsai wins the election, Paal said he believed the US government "will be massively and quickly engaged to try to help her come to a formula that would preserve [cross-strait] peace and stability."
Asked about the impact of a DPP victory on cross-strait relations and US-Taiwan ties, Paal said he would like to broaden the issue to a regional level.
"The US and China are both sitting on the edge of their chairs, nervous about the outcome of this upcoming election in Taiwan," Paal said.
At a time when the US and China are cooperating on issues such as North Korea, Iran and the South China Sea and many others, "the absence of tension [in the] Taiwan Strait has been a big lubricant to better US-China relations and [has] improved international atmosphere in this part of the world," he said.
The "secret leak" to the Financial Times, in which a senior US official said in September that Washington mistrusts Tsai in her handling of cross-strait relations was "the private feeling of the senior administration officials generally," Paal said.
He said the assurances Tsai gave to Washington about cross-strait management "were too vague to make Washington comfortable."
"The US, I am sure, is trying to send a very strong signal that she has to, from the very beginning after the day of the election, not do anything to make any situation worse and try to find means to persuade China that she is not a threat to their perception of what's required for peace and stability in the cross-strait area," Paal said.
Paal led a group joined by James Keith, a former US envoy to Malaysia and a former deputy assistant secretary of state, and Steven Goldstein, director of the Taiwan Studies Workshop at Harvard University's Fairbank Center for Chinese Studies, to observe the elections.
At the invitation of the Prospect Foundation, a government-affiliated institute, they will also attend a closed-door forum on the situation in North East Asia on Sunday.
Paal visited the People First Party campaign office yesterday and will visit Tsai's headquarters today and Ma's in the morning on Election Day.
Asked about Paal's visit, AIT spokesperson Christopher Kavanagh said Paal was a private citizen and that his remarks were his "personal views."
"The AIT did not arrange his trip to Taiwan. We are happy to work with whoever the people of Taiwan elect. We don't take sides in the election," Kavanagh said.
Comments will be moderated. Keep comments relevant to the article. Remarks containing abusive and obscene language, personal attacks of any kind or promotion will be removed and the user banned. Final decision will be at the discretion of the Taipei Times.