2012 ELECTIONS: DPP condemns indictment of candidate
The Miaoli District Prosecutors' Office's decision on Thursday to indict political commentator Hsu Yung-ming (徐永明) and Ho Po-wen (何博文), a DPP legislative candidate, on charges of public defamation just days before the elections was unacceptable, Democratic Progressive Party (DPP) spokesperson Lin Chun-hsien (林俊憲) said yesterday.
The two are being charged for describing Miaoli County Commissioner Liu Cheng-hung (劉政鴻) as an official without moral principles and a bully on political talk show The Talking Show (大話新聞), on June 23, 2010.
Their comments were because of Liu's part in the Dapu incident, in which the Miaoli County Government seized farmland to expand the Jhunan science park by blocking off roads and sending excavators into farms that were awaiting harvest.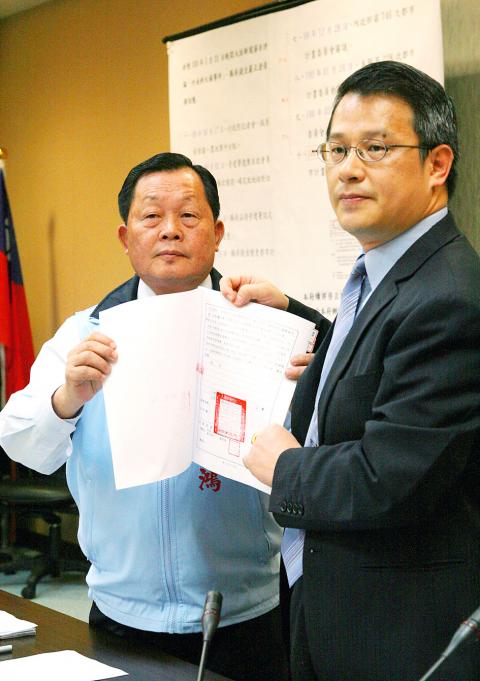 Miaoli County Commissioner Liu Cheng-hung, left, and his lawyer display an application to sue the host and six guest panelists from the talk show The Talking Show on June 2 last year over comments they made about his role in the Dapu land seizure incident.
Photo: CNA
"When I spoke as I did, it was to give a voice to the disadvantaged, and the public has its own opinion of the matter," Ho said, adding that the person who "ruined arable land" and "caused the death of elderly farmers" has not been punished, nor were there any judicial investigations into the Dapu incident.
"In contrast, professor Hsu and I, the people who gave a voice to the disadvantaged, were indicted," Ho said. "Is there still justice in Taiwan?"
Liu said on Thursday that the Prosecutors' Office's indictment rendered him and the county government justice, adding that he would also sue Ho and Hsu for criminal and civil reparations for NT$5 million (US$165,400) each, promising to donate all of the reparations to disadvantaged groups.
Translated by Jake Chung, Staff Writer
Comments will be moderated. Keep comments relevant to the article. Remarks containing abusive and obscene language, personal attacks of any kind or promotion will be removed and the user banned. Final decision will be at the discretion of the Taipei Times.