2012 ELECTIONS: Tsai speaks to 'NYT' about the 'Taiwan consensus'
Democratic Progressive Party (DPP) presidential candidate Tsai Ing-wen (蔡英文) said in an interview with the New York Times published yesterday that her China policy has been consistent through the years — one that does not accept the "one China" principle and advocates bilateral engagement with a democratic process and under a multilateral framework.
The DPP chairperson said that a "Taiwan consensus," based on majority opinion through open dialogue, is a better way to deal with China than the opaque -decision-making process used by the Chinese Nationalist Party (KMT) for decades.
The so-called "1992 consensus" has been advocated by President Ma Ying-jeou (馬英九), her opponent in next Saturday's presidential election, and Beijing because China has insisted on it as a precondition for any cross-strait exchanges.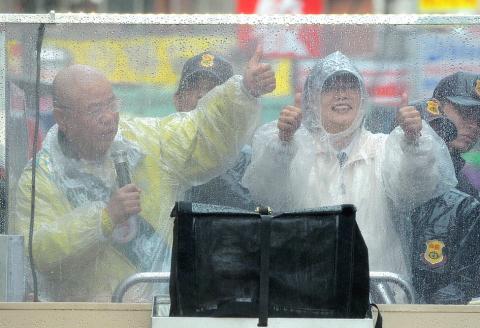 Democratic Progressive Party presidential candidate Tsai Ing-wen, right, gives the thumbs up while campaigning in heavy rain in the Wugu, Taishan and Sinjhuang areas of New Taipei City yesterday.
Photo: Wang Yi-sung, Taipei Times
The 1992 consensus "is messy and nobody has a clear idea or convincing argument as to what happened in the 1990s," she said.
Tsai said that the Taiwan consensus "means people in Taiwan have to get together and form a consensus of their own and that they would then turn around and talk to the Chinese to form a cross-strait consensus so we can build a relationship on that consensus."
"And in my view, that is the right order to do things. And with that, we can build a long-lasting relationship with China," she said.
Taiwan needs to manage uncertainty in dealing with China, a rising power that "is not a democracy or a full market economy yet," to make sure it could insulate itself from problems such as social instability China may be facing, she said.
Taiwan appears to have lost its sovereignty because more international partners think Taiwan has accepted the "one China" principle and Ma's interpretation of the cross-strait relationship as an "area-to-area relationship," Tsai said.
Her China policy has been "pretty consistent" since she served as minister of the Mainland Affairs Council, Tsai said, as she said that Taiwan should leave its options open, but the important decisions have to made by the people through a democratic process.
"I do think we need to normalize our trade and economic relationship [with China] in the multilateral framework of the WTO. That continues to be my position," she said.
Tsai raised several points about the development of Taiwan's democracy, saying the bright side is that there are more mature voters and citizens, but there has been increasing Chinese influence as well.
The KMT's large party assets continued to hurt fair competition between political parties, she added.
She said she was not worried about the US abandoning Taiwan, because Taiwan was not facing China alone and if the US is serious about returning to the Asia-Pacific region, it should boost the confidence of all the countries in the region.
The presidential hopeful said that former president Chen Shui-bian's (陳水扁) corruption case did not reflect on the DPP, adding that it is the KMT that still has prevalent and systemic corruption.
On economic issues, she highlighted the need for job creation and a change of strategy because Taiwan needs to pursue an employment-driven economy, instead of a GDP-driven one, and change the economy from one based on cost to one based on technology and innovation.
Comments will be moderated. Keep comments relevant to the article. Remarks containing abusive and obscene language, personal attacks of any kind or promotion will be removed and the user banned. Final decision will be at the discretion of the Taipei Times.