Taiwan first international client for Apache Longbow
Taiwan has become the first country to make an international purchase of the Block III Longbow Fire Control Radar (FCR), a powerful target acquisition and prioritization system and a key component of the AH-64D Apache helicopter.
This was made official in a Lockheed Martin Corp press release on Wednesday, which stated that Longbow Limited Liability Co, a joint venture of Lockheed Martin and Northrop Grumman Corp, had received a US$181 million contract from the US Army for AH-64D Apache Block III Longbow systems.
According to the press release, the contract includes the first international purchase of the Block III Longbow Fire Control Radar (FCR), for a total of 15 Block III Longbow FCR systems.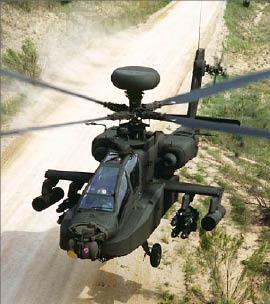 An Apache Longbow helicopter is seen in this photo taken from the Boeing Web site, the maker of the helicopter.
Photo: Boeing Web site
The Boeing Co-made Apaches are part of a US$6.4 billion arms package notified to US Congress in October 2008. The 30 attack helicopters will cost Taiwan an estimated US$2.5 billion and will supplement the AH-1W Super Cobra that has been used by the Taiwanese army since 1993. The notification also included 1,000 AGM-114L Longbow Hellfire missiles and 66 M299 Hellfire Longbow missile launchers.
Wednesday's announcement represents the first batch of Longbow radar systems for Taiwan, with orders for the remaining 15 expected to be placed sometime in the future.
"The Longbow Apache is the world's premier attack helicopter and the FCR is one of the key elements that make it that way," Colonel Shane Openshaw, US Army project manager for the Apache helicopters, was quoted as saying.
The FCR provides all-terrain and all-weather detection, location, classification and prioritization of multiple air and ground targets, the Web site says. As it is mounted atop the helicopter's main rotor, the FCR enhances the Apache's ability to acquire and track targets without being detected. The Longbow FCR integrates with the Hellfire missile, enhancing the Apache's lethality fourfold and increasing its survivability sevenfold, the release says.
The first Apache is scheduled for delivery in October. Taiwan's acquisition of the world's most advanced combat helicopter is part of a project codenamed Tian Ying, or "Sky Eagle."
Comments will be moderated. Keep comments relevant to the article. Remarks containing abusive and obscene language, personal attacks of any kind or promotion will be removed and the user banned. Final decision will be at the discretion of the Taipei Times.