Ex-AIT director taking fire in HK
STIRRING THE POT? Pro-CCP media are attacking Stephen Young for remarks he made about HK politics, which some attribute to his previous posts in Taiwan and Kyrgyzstan
Former American Institute in Taiwan (AIT) director Stephen Young has run into trouble with Chinese authorities in Hong Kong for reportedly ignoring "solemn warnings" to keep quiet about democracy in the territory, the Washington Post reported.
Young, who assumed the position of US consul-general in Hong Kong in March last year, has in recent months faced accusations by Chinese Communist Party (CCP)-controlled media in the territory of being part of a US plot to sow discord in the territory to "keep China down."
Leading the attacks against Young, the Chinese-language and pro-Beijing Wen Wei Po has said the diplomat comes from "an anti-China, anti-communist family," adding that "wherever he goes, there is trouble and so-called color revolution."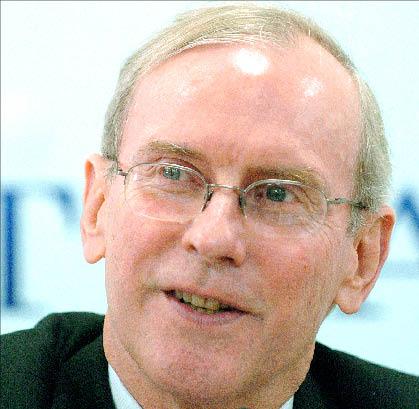 Then-American Institute in Taiwan director Stephen Young speaks on June 26, 2009, at his last regular press conference in Taipei as head of the US' representative office in Taiwan.
Photo: Chang Chia-ming, Taipei Times
The paper has also reportedly launched attacks on academics who favor democratic reform in Hong Kong.
The Mandarin-speaking Young was AIT director from March 2006 until July 2009, and US ambassador to Kyrgyzstan from 2003 until 2005, when the former Soviet republic was rocked by a democratic uprising.
The severity of the campaign against Young climbed a notch after Lu Xinhua (呂新華), head of the Hong Kong branch of the Chinese Ministry of Foreign Affairs, made a personal rebuke during a meeting with reporters in Hong Kong recently.
According to the Washington Post, Lu warned outsiders "not to interfere in China's internal affairs" and singled out Young over remarks he made earlier this month about elections in Hong Kong, the selection of a new chief executive next year and plans to introduce universal suffrage in 2017.
Although Young did not challenge how Beijing has handled Hong Kong since the handover in 1997 and has avoided siding with any party in the territory, he said the US "supports this democratization process" and would be "watching closely."
Lu said such comments by a US official could not be tolerated.
"This is something we resolutely oppose," the Post quoted Lu as saying. "China has the right to protest and even expel diplomats who don't follow internationally accepted rules."
Some China watchers have advanced the theory that Young may have attracted special attention from Beijing because of his strong contacts across the political spectrum in Taiwan — his directorship at AIT spanned both the administration of former president Chen Shui-bian (陳水扁) of the Democratic Progressive Party and President Ma Ying-jeou (馬英九) of the Chinese Nationalist Party (KMT) — and his presence in Kyrgyzstan during the 2005 revolution.
A spokesperson for the US consulate in Hong Kong has vehemently denied the allegations against Young.
Beijing appears to have become jittery about developments in the territory next year. Some analysts have said the selection of the Hong Kong's next chief executive — between Henry Tang (唐英年), who is said to be siding with the "Shanghai faction," and Leung Chun-ying (梁振英), an ally of Chinese Vice President Xi Jinping (習近平), who is expected to become China's next president — is reflecting a power struggle within the CCP.
A 1,200-member selection committee made up of Hong Kong's business and political elite will pick a new leader on March 25 next year to replace Hong Kong Chief -Executive Donald Tsang (曾蔭權).
Pro-Beijing and CCP-controlled media in Hong Kong have also turned against Hong Kong media tycoon Jimmy Lai (黎智英), accusing him of handing pro-democracy parties in Hong Kong millions of dollars with assistance from the US, or even the CIA, charges the wealthy Lai vehemently denies.
Comments will be moderated. Keep comments relevant to the article. Remarks containing abusive and obscene language, personal attacks of any kind or promotion will be removed and the user banned. Final decision will be at the discretion of the Taipei Times.