Emerald Matsu statue lands at Taichung Harbor
A 1.30m tall Matsu statue, carved out of emerald in China, landed at Taichung Harbor yesterday after making the short crossing from Meizhou Island off the coast of southern China.
The statue, weighing 1.5 tonnes, was created by Fujian-based Chinese master sculptor She Guoping (佘國平) for a jewelry company in Shanghai.
It is to be donated to the Jenn Lann Temple (鎮瀾宮) in Greater Tai-chung's Dajia (大甲) district, one of the country's most popular Matsu temples.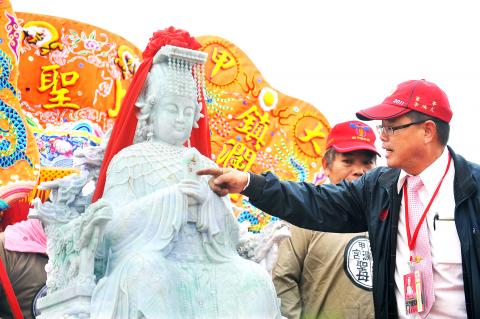 A man points to the Chinese characters for "Dajia," a district in Greater Taichung, on the small plaque in the hands of a 1.30m tall Matsu statue, carved from emerald and brought over from China yesterday, after it was enshrined.
Photo: Yu Po-lin, Taipei Times
The dedication and donation ceremony was held in Meizhou on Saturday.
Matsu (媽祖), the goddess of the sea, is one of the most popular deities in Taiwan. According to legend, Matsu was a girl from the Ming Dynasty (1368-1644) who was deified posthumously in honor of the assistance she offered to seafarers. Since being brought to Taiwan by Chinese immigrants in the 1600s, Matsu traditions have attracted many local worshipers.
Greater Taichung Mayor Jason Hu (胡志強) yesterday received the valuable statue, along with Jenn Lann Temple president Yen Ching-piao (顏清標).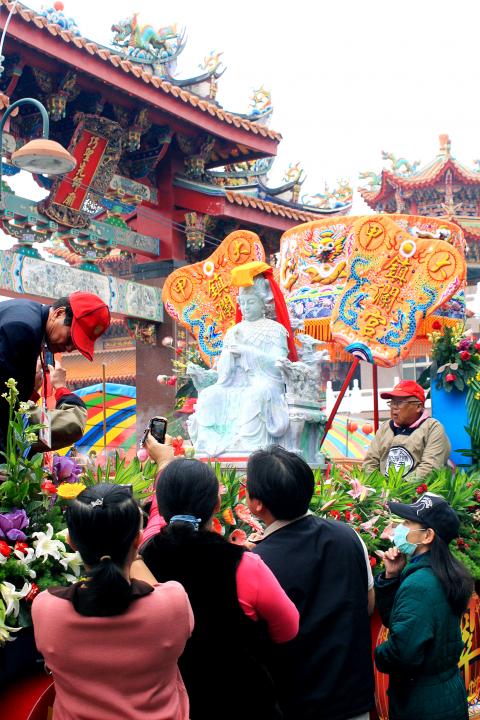 People in Greater Taichung's Dadu District look at a 130cm-tall jadeite Matsu statue yesterday after it was shipped over from Meizhou Island in China's Fujian Province.
Photo: Yu Po-lin, Taipei Times
Hu said the religious event, which he described as an exchange of beliefs and feelings between people from the two sides of the Taiwan Strait, would pull the two sides closer together.
Asked about the statue's value, Jenn Lann Temple vice president Cheng Ming-kun (鄭銘坤) declined to give an exact figure, but said religious belief is "priceless."
According to Chinese-language media reports, the value of the emerald statue is at least 180 million yuan (US$28.25 million).
A four-day, three-night parade will be held in Taichung to celebrate its arrival.
The procession is scheduled to make stops at major Matsu temples around the city, before reaching the Jenn Lann Temple on Sunday, where an enshrining ceremony will take place.
Comments will be moderated. Keep comments relevant to the article. Remarks containing abusive and obscene language, personal attacks of any kind or promotion will be removed and the user banned. Final decision will be at the discretion of the Taipei Times.