Statue honors Okinawans who died in 228 Incident
REMEMBRANCE: The statue of an Okinawan fisherman memorializes those who died in the 228 Incident. Between 1905 and 1945, up to 500 of them lived on Heping Island
Braving strong winds, rain and waves pounding the shore, officials and residents from Keelung and Japan's Okinawa Prefecture yesterday jointly unveiled a statue of an Okinawan fisherman with cheers, music and words of friendship to commemorate Okinawans who died during the 228 Incident.
The ceremony started with a Buddhist rite, hosted by the head monk from Seikoji Temple in Okinawa, at Wanshantang — a small temple with urns containing bones and ashes of people of unknown identity or those who died without descendants — near the monument on Keelung's Heping Island (和平島), which is just off Taiwan proper.
Bodies of Okinawan fishermen, including more than 30 of them who were killed by Chinese Nationalist Party (KMT) troops in the 228 Incident, were buried at Wanshantang.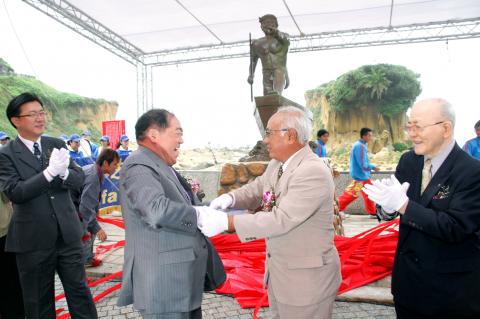 Keelung mayor Chang Tong-rong, center left, and Japan's Miyakojima mayor Toshihiko Shimoji, center right, shake hand after unveiling a statue to commemorate Okinawa fishers who died during the 228 Incident in 1947 during a ceremony in Keelung yesterday.
Photo: Loa Iok-sin, Taipei Times
The 228 Incident refers to the large-scale uprising across the island in 1947 against the KMT regime, which was put down in a violent crackdown.
"We've always heard that some of our ancestors are here in Keelung and the people of the city have always remembered them in religious rites," the monk said. "We're holding a religious rite and have erected a monument here to comfort the spirits of our ancestors."
"Meanwhile, we would also like to express our gratitude to the people of Keelung," the monk added.
Chou Chen-tsai (周振才), a board member of the 228 Care Association, said that from about 1905 to the end of World War II, as many as 500 fishermen from Okinawa, whose former name was Ryukyu, had settled on Heping Island, forming a "Ryukyu village" there, and lived side by side with Taiwanese.
Many Okinawan fishermen stayed after the end of the war and some were killed during the massacre in 1947.
"That there were Okinawan victims of the 228 Incident are not known among the public, but we've always heard about it from locals. So, around eight years ago, organizations of the 228 Incident and historians launched a research project in both Taiwan and Okinawa and have confirmed it as fact," Chou said.
"That's why we're erecting a monument here, not only to remember the deceased, but also to remind the public about the forgotten history," Chou added.
The religious rite was followed by a ceremony to unveil the monument by Keelung Mayor Chang Tong-rong (張通榮) and Toshihiko Simoji, mayor of Miyakojima City in Okinawa Prefecture, where many of the Okinawan fishermen who settled on Heping Island came from.
The mayors thanked each other for their help in erecting the statue and expressed the hope that the monument would help to enhance exchanges between the two cities, which were quite frequent before 1945.
Many Okinawans whose ancestors had once lived on Heping Island also attended the ceremony — among them was Shiosei Yashumoto, whose great-uncle, Chouzou Uchima, lived on Heping Island from 1905 to 1945, and was the model for the fisherman statue.
"My great uncle lived in Taiwan from 1905 to 1945. He was a good friend of Taiwanese, he taught them some fishing techniques unique to Okinawa and gave his Taiwanese friends fish during wartime when the [Japanese colonial] government prohibited selling fish to the Taiwanese," Yashumoto said through a translator. "He was even arrested for that, but he was released by arguing that he didn't 'sell' the fish, rather, people took it from him for free."
Comments will be moderated. Keep comments relevant to the article. Remarks containing abusive and obscene language, personal attacks of any kind or promotion will be removed and the user banned. Final decision will be at the discretion of the Taipei Times.