2012 ELECTION: DPP plans more than 30 mass rallies around nation
Democratic Progressive Party (DPP) presidential candidate Tsai Ing-wen (蔡英文) is planning to hold a series of more than 30 cross-the-nation rallies to drum up support and morale in the last month before the Jan. 14 presidential and legislative elections, Tsai's campaign officials said yesterday.
According to one official, the Tsai campaign is planning to hold rallies in multiple cities and counties, with at least 50,000 supporters at each rally.
Due to the high population density in the five special municipalities, there would be at least two events held in each, the official said, adding that because New -Taipei City (新北市) has the largest population in the country, there would at least be three events held there, with one in Banciao District (板橋), one in Sanchong District (三重) and one that would be decided later by the campaign headquarters.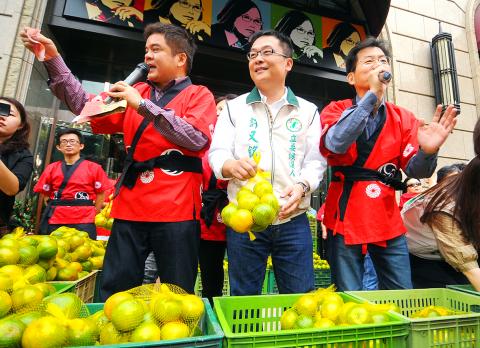 Democratic Progressive Party (DPP) spokesperson Chuang Ruei-hsiung, left, DPP legislator Hsu Yu-ming, center, and former DPP secretary-general Lee Ying-yuan sell fruit at a sale organized by the party's presidential candidate Tsai Ing-wen's national campaign headquarters in New Taipei City yesterday to help farmers.
Photo: Wang Min-wei, Taipei Times
Special emphasis would be laid on central Taiwan, the official said.
In response to the show of support for the DPP's "three little pigs" fund-raising campaign, Tsai campaign official Lin Hsi-yao (林錫耀) said yesterday that on Dec. 10 they would collect the piggy banks at each regional campaign headquarters, with the piggy banks to be sent to Tsai's national campaign headquarters in Banciao by Dec. 18.
The "three little pigs" campaign stems from an incident last month when the DPP had to return three piggy banks donated by three-year-old triplets after the Control Yuan warned that the donations were in violation of the Act Governing Political Donations (政治獻金管理條例).
The law stipulates that only people of voting age and those who meet other voting eligibility rules are allowed to make political donations.
The incident sparked a craze among Tsai's supporters of putting their donations to the party into piggy banks. It prompted the DPP to declare this month "little pigs month," with children as its spokespeople calling on supporters to use piggy banks to support the party.
Because of the weight of the amassed piggy banks, with DPP spokesperson Kang Yu-cheng (康裕成) saying that she could not lift 16 full piggy banks, Tsai's regional campaign headquarters are trying to make arrangements for trucks to transport the piggy banks from each regional campaign headquarters to Tsai's national campaign headquarters in Banciao.
Translated by Jake Chung, Staff Writer
Comments will be moderated. Keep comments relevant to the article. Remarks containing abusive and obscene language, personal attacks of any kind or promotion will be removed and the user banned. Final decision will be at the discretion of the Taipei Times.