Cambodian land seizures protested
Human rights groups yesterday staged a demonstration in front of the headquarters of Ve Wong Corp — a well-known food manufacturer that produces instant noodles, sauces and snacks — in Taipei, protesting against the alleged seizure of farmland in Cambodia by two of the company's joint ventures.
"The forced seizure of farmland in Cambodia's Koh Kong Province by Koh Kong Sugar Co Ltd and Koh Kong Plantation Co Ltd is a very well-known case among human rights activists in Southeast Asia," said Roxanna Chen (陳思穎), a protester who used to work at a human rights organization based in Thailand. "After looking deeper into the case, I realized that a Taiwanese firm was one of the major investors in the two companies and that's why I think we should take some actions here in Taiwan."
According to Chen, Ve Wong owns a 30 percent stake in each of the companies operating in Cambodia, with the remainder of both fims owned by the Thailand-based Khon Kaen Sugar Co and Cambodian member of parliament, Ly Yong Phat.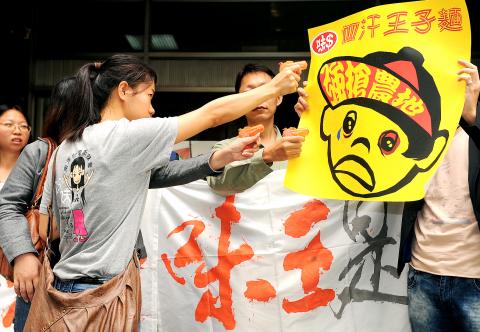 Members of the Environmental Jurists Association and other public groups hold up banners while performing a skit outside the main office of the Ve Wong Corp in Taipei yesterday. The protestors accused the company of violating human rights and developing land in inappropriate ways at their factories in Cambodia.
Photo: Chu Pei-hsiung, Taipei Times
Since 2006, Koh Kong Sugar has seized 9,600 hectares of farmland and Koh Kong Plantation took 9,400 hectares to build a sugarcane plantation and a sugar processing plant, Chen said.
Several Cambodian farmers were killed or injured by security personnel dispatched by the companies as they tried to protest the seizure of their farmland, she added.
"I don't know the law, but I want to say that it's fine for Ve Wong to make money, but they have no right to do so by hurting others and depriving farmers of their rights," said Ly Vouch Hang, a Cambodian immigrant who represented the TransAsia Sisters Association Taiwan at the protest.
Taiwan Association for Human Rights' Policy director Shih Yi-hsiang (施逸翔) said that as a signatory of the UN's International Covenant on Civil and Political Rights and its International Covenant on Economic, Cultural, and Social Rights, "the government should make sure that all businesses follow the principles laid out in the two covenants, whether operating in Taiwan or abroad."
In response to the protest, Ve Wong Corp issued a statement saying that while the company holds a 30 percent stake in each of the companies, "our Thai partners are in charge of the daily operations of the companies and have never informed us about what the human rights groups have stated."
Comments will be moderated. Keep comments relevant to the article. Remarks containing abusive and obscene language, personal attacks of any kind or promotion will be removed and the user banned. Final decision will be at the discretion of the Taipei Times.