Tsai promotes animal protection
EDUCATING THE PUBLIC: Tsai Ing-wen said the most important thing was to teach people respect for animals, while rights groups said more resources were needed
Source management, more government support on resources and education are all important elements in promoting animal protection, Democratic Progressive Party (DPP) Chairperson Tsai Ing-wen (蔡英文) said yesterday.
During a meeting with animal welfare advocates, Tsai said that if she were elected president in January, her administration would allocate more funding and personnel, establish a comprehensive system of animal rescue, shelter and adoption, implement strict management on illegal breeders and animal abandonment, as well as promote life education for citizens and schoolchildren.
The advocates, led by writer Chu Tien-hsin (朱天心) and film director Hou Hsiao-hsien (侯孝賢), highlighted the dire situation of stray animals in the country and urged the government to establish an agency that would integrate the management of animals.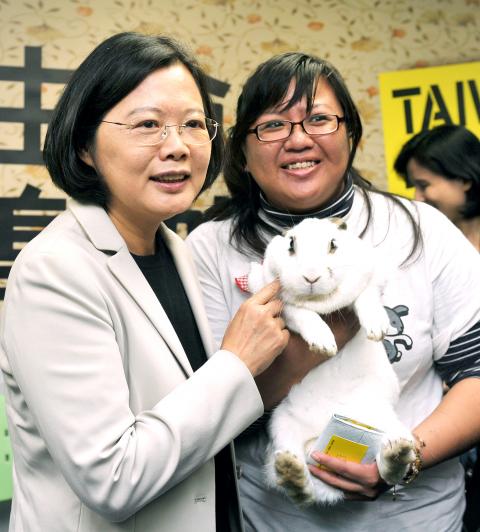 Democratic Progressive Party Chairperson Tsai Ing-wen, left, poses with a woman and her pet rabbit yesterday during a visit by environmental protection activists at the party's Taipei headquarters.
Photo: CNA
The DPP has always valued the right to life and environmental rights, she told the advocates, who said that animal protection had been ignored by past administrations, adding that the only way they handled stray animals was by killing them.
The first thing the government should do is increase funding and personnel for animal protection, she said, adding that the current annual budget of NT$50 million (US$1.66 million), or 0.13 percent of the Council of Agriculture's NT$40 billion budget, was not enough.
More resources would be a good start to prevent the situation from worsening, she said.
The second — and more important — task would be to promote education on animals' right to life and pet owners' responsibilities, she said, because people would not become aware of the need for animal protection until they learn to value life.
The presidential hopeful also proposed setting up a police force to ensure animal protection and turn pet shops into places where people can adopt animals.
"We could also reconsider whether it is appropriate to place the animal protection agency under the council," she said.
Animal rights advocate Huang Tai-shan (黃泰山) said it has been 12 years since the Animal Protection Act (動物保護法) was enacted, but over the past 12 years, more than 1.14 million dogs have been captured and about 1 million have died in shelters.
"The main problem is that the central government cannot enforce its policy at the local government level because there are too few resources and specialized personnel. While there are more than 100 dog catchers nationwide, there are only 17 animal control officers," Huang said.
"We need reform so that policies from the central government can actually be carried out at the local level," Huang said.
Hou said the government should grasp the opportunity to include animal protection policies into the organizational restructuring of the Executive Yuan next year, but in the meantime, Taiwanese have to learn to respect animals.
An animal welfare activist for more than a decade, Huang Tsung-huei (黃宗慧), a professor at National Taiwan University's department of foreign languages and literature, said animal protections efforts came mainly from civic groups, but they often felt powerless because of the lack of government support.
"In addition, some people think human welfare and animal welfare are mutually exclusive, but it's actually about how we value the distribution of resources," she said.
"They should ask why the government spends so much money on fireworks displays, instead of asking why we should spend so much on protecting animals," she said.
A member of the Taipei City Love Rabbit Association surnamed Kuo (郭) said rabbits are often used as bait for snake shows or presents at night markets, which is clearly prohibited by the law, but animal protection officers have no legal authority to prohibit such behavior.
Tsai said she agreed that the two major problems were insufficient resources from the central government and insufficient recognition from the general public of the need for animal protection.
Comments will be moderated. Keep comments relevant to the article. Remarks containing abusive and obscene language, personal attacks of any kind or promotion will be removed and the user banned. Final decision will be at the discretion of the Taipei Times.