Ma urged to extend invitation to Ai Weiwei
FREE AND INDEPENDENT: Ai will not be attending the exhibition in Taipei, leading to calls for Ma to extend an invitation to the artist to visit under the FIT program
Opposition politicians and human rights activists yesterday urged President Ma Ying-jeou (馬英九) to invite Chinese dissident artist Ai Weiwei (艾未未) to Taiwan in conjunction with a solo exhibition of his works that opens at the Taipei Fine Arts Museum today.
"It's too bad that Ai himself cannot come to Taipei to attend the opening of the exhibition," Democratic Progressive Party (DPP) Legislator Tien Chiu-chin (田秋堇) said at a news conference.
Since Chinese citizens are now allowed to travel independently to Taiwan, it is rather odd for Ai to be absent from the opening ceremony of his first solo exhibition in Taipei, Tien said.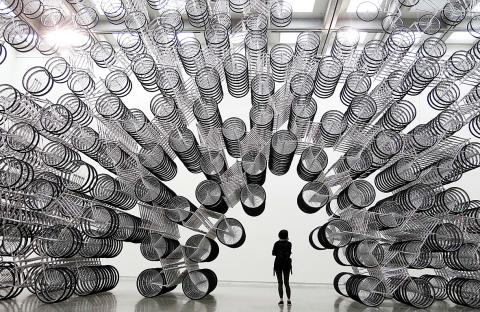 A woman looks at an art installation named Forever Bicycles by Chinese dissident artist Ai Weiwei during a media preview of the "Ai Weiwei Absent" exhibition in Taipei yesterday.
Photo: Pichi Chuang, Reuters
"We should not remain silent. Both President Ma and Taipei Mayor Hau Lung-bin (郝龍斌) should speak out to push the Chinese authorities to allow Ai to come to Taiwan for the grand ceremony," she said.
Ai, an outspoken critic of the control the Chinese Communist Party has on Chinese society and censorship in the country, is currently being investigated for tax evasion and has been barred from leaving the country.
He was released in June after an almost three-month detention, which sparked outrage worldwide. He took the top spot in Art Review magazine's recently released annual list of the world's most powerful figures in the art world.
Tien called on Ma to formally invite Ai to Taiwan as a free independent traveler (FIT). The FIT program for Chinese tourists, in place since June 28, is a program open to residents of select cities in China and allows them to travel independently, as opposed to in a tour group.
DPP Taipei City Councilor Lee Chien-chang (李建昌) echoed Tien's call.
"Only when people from both sides are able to engage with each other freely will President Ma's efforts to promote peaceful development across the Taiwan Strait be meaningful," Lee said.
"Since the FIT program is already in place, why is it that the Taiwanese government feared letting Ai come to Taiwan to see his own exhibition?" Taiwan Association for China Human Rights executive council member Ruan Ming (阮銘) asked, calling on Taiwanese to let the Chinese government know that they hoped Ai could have visited Taiwan.
Dubbed "Ai Weiwei Absent," the exhibition will feature 21 works, including photographs, installation pieces, videos, 12 bronze heads representing Chinese zodiac symbols and a new piece consisting of about 1,000 bicycles reflecting China's social changes.
Taipei Fine Arts Museum deputy director Liu Ming-hsing (劉明興) recently said that Ai was very excited to stage a large-scale solo exhibition in Taiwan.
"We invited him to attend the opening ceremony of the exhibition at the museum," Liu said. "So far, he hasn't been able to give us a definite response."
Museum officials earlier this month said that Ai's wife, Lu Qing (路青), plans to visit Taiwan early next month.
Translated by Jake Chung, Staff Writer
Comments will be moderated. Keep comments relevant to the article. Remarks containing abusive and obscene language, personal attacks of any kind or promotion will be removed and the user banned. Final decision will be at the discretion of the Taipei Times.