Undersea release of methane gas connected to tides
TAIWANESE DISCOVERY: A team from the National Central University said that if a way to collect the methane was found, it could prove to be a valuable energy source
Researchers claim to have unlocked the interaction patterns between the seabed fluctuations in the southwestern oceanic area of Taiwan, which is home to many underwater mud volcanoes, and the ebb and flow of tides.
A team from National Central University also discovered that during seabed fluctuations caused by changes in tides, methane gas is released into the water and atmosphere, which may be collected for energy resources or become greenhouse gas.
At a press conference at the National Science Council yesterday, Hsu Shu-kun (許樹坤), a professor of earth sciences at the university, said there are many mud volcanoes about 100m tall located 500m or more below the surface of the sea in that area.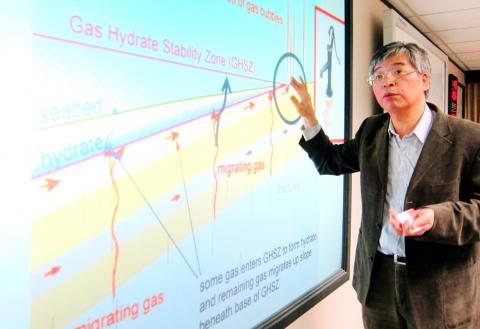 Hsu Shu-kun, a professor of earth sciences at National Central University, gives a presentation yesterday on the mud volcanoes along the southwestern coast of Taiwan, and the flammable gases they emit.
Photo: Chen Yi-ching, Taipei Times
His council-funded team found that as the tide changes, the depth of the water also changes, leading to changing water pressure on the seabed.
When the tide is low, Hsu said, the water becomes shallower, reducing the water pressure on the seabed, whereupon methane clathrate (methane trapped within a crystal structure of water, in the form of a solid) under the seabed releases the methane component and is released from the more shallow parts of the seabed.
Hsu said the release of methane from the seabed about 500m underwater and the fluctuations of the seabed in connection with the changing tide work like a "water pump." He said such a process has not been found in other parts of the world.
Based on the data gathered so far, the concentration of methane and carbon dioxide released as a result of seabed fluctuations is very high, Hsu said.
If ways were found to collect the methane, Hsu said, it could be turned into a valuable energy source.
Comments will be moderated. Keep comments relevant to the article. Remarks containing abusive and obscene language, personal attacks of any kind or promotion will be removed and the user banned. Final decision will be at the discretion of the Taipei Times.