Former US defense chief lauds Taiwan
NO WORRIES: Donald Rumsfeld said closer Taiwan-China ties were a good thing and 'authoritarian systems ought to fear open societies more than the other way around'
Taiwan is a model for Asia and more specifically for China, a former US secretary of defense said during a keynote speech in Taipei yesterday, calling on Washington to sign a free-trade agreement (FTA) with Taiwan.
In Taiwan to attend the Republic of China centenary celebrations, former US secretary of defense Donald Rumsfeld was invited by the Prospect Foundation, a Chinese Nationalist Party (KMT)-affiliated think tank, to share his views on future challenges in Asia.
The sprightly 79-year-old, who stepped down as former US president George W. Bush's defense chief in 2006, said the US supported a peaceful resolution to differences across the Taiwan Strait and that progress in that direction in recent years was welcome.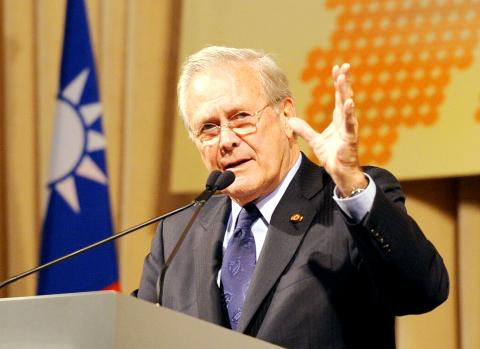 Former US secretary of defense Donald Rumsfeld delivers a speech on challenges and prospects in the Pacific region at an event organized by the Prospect Foundation in Taipei yesterday.
Photo: George Tsorng, Taipei Times
"A stable and secure relationship between Taiwan and the mainland [China] is good for both parties, for the region and for the US," said the career government official, who first visited Taiwan in 1969.
Despite those developments, Rumsfeld said, progress was likely to continue only if both parties recognized that armed conflict was an unacceptable option, which meant Taiwan should maintain its defense and expand ties with regional allies.
"It also means that the US should continue its policy of support to Taiwan for the Taiwanese people to have the confidence to negotiate and improve" relations with China, he said, adding that in the international system, weakness was often perceived as an opportunity on the part of the stronger party to act rashly.
Rumsfeld said the decision by US President Barack Obama's administration last month to upgrade Taiwan's F-16A/B aircraft was a manifestation of US responsibility under the Taiwan Relations Act and former president Ronald Reagan's "Six Assurances."
He also said that in his view, efforts by Taiwan to procure more advanced F-16C/Ds were still alive and that the US should continue to encourage Taipei to identify its military requirements and make those known to Washington.
Only by ensuring that Taiwan is strong enough would it be possible for Taiwan's 23 million people to decide their future, he said.
Pointing to the "dynamism" and "resilience" that prevails in Asia amid turbulence in the global economic system, Rumsfeld said the US, which conducts trade of about US$2 trillion in goods and services with Asia annually, should push for a region-wide FTA that includes Taiwan, Japan, Australia and India, among others.
As Washington puts its fiscal house in order, he said, the US "should not — and will not — be merely a spectator in the Pacific region. The promise and potential of Asia are such that future American administrations will unquestionably make the Pacific a strong focus of our foreign policy."
Turning to China, Rumsfeld said that while some people tended to project the emergence of a "40-feet-tall giant" with whom a clash was inevitable at some point, conflict was not inevitable and was "very unlikely," adding that China's rise also faced a number of serious challenges, such as a rapidly aging society, an economy that remained in the thralls of the central government and lack of political freedom.
He also cautioned the Obama administration against starting a trade war with China.
"America needs to resist the current bipartisan proposal that would erect trade barriers and tariffs against China and risk sparking a worldwide trade war — the last thing the global economy needs ever, let alone now."
While progress has been made in turning China into a responsible stakeholder, Beijing continued on occasion to act in a manner that was detrimental to rapprochement, Rumsfeld said, mentioning the overt collision by Chinese warplanes with a US EP-3 surveillance plane in 2001 and its continued support for Libyan leader Muammar Qaddafi, North Korean leader Kim Jong-il, Syrian President Bashar al-Assad and Iranian President Mahmoud Ahmadinejad.
He also pointed to the expansion of China's navy, its missile buildup threatening Taiwan and the use of cyberattacks against the US government.
Asked if he believed the US should worry about Taiwan becoming "over-reliant" on China or be absorbed by it, Rumsfeld said such fears would be overblown.
"People in authoritarian systems ought to fear open societies more than the other way around," he said. "Closer ties will be a good thing for Taiwan and the People's Republic of China — and not in the way that it [the Chinese leadership] thinks."
Comments will be moderated. Keep comments relevant to the article. Remarks containing abusive and obscene language, personal attacks of any kind or promotion will be removed and the user banned. Final decision will be at the discretion of the Taipei Times.