COSWAS calls for decriminalization of sex industry
The Collective of Sex Workers and Supporters (COSWAS) yesterday rallied outside the Legislative Yuan, calling for the complete decriminalization of the sex industry, before meeting lawmakers from the two main political parties.
The rally comes just a month before a clause in the Social Order Maintenance Act (社會秩序維護法) that penalizes sex workers expires.
Article 80 of the Social Order Maintenance Act, which penalizes sex workers, but not their clients, was declared "unconstitutional" by the Council of Grand Justices on Nov. 6, 2009, and it gave the government and the legislature a two-year period to amend the law.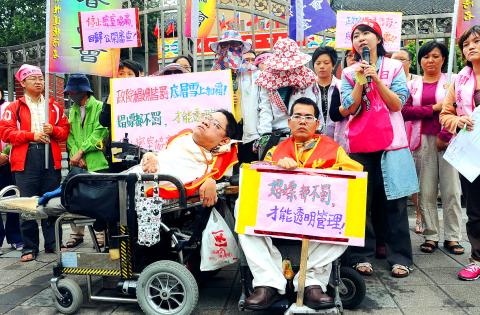 Activists from the Collective of Sex Workers and Supporters and allied labor groups rally outside the Legislative Yuan in Taipei yesterday to call for complete decriminalization of the sex industry.
Photo: Chang Chia-ming, Taipei Times
According to the interpretation, the council declared the clause unconstitutional because it believed that penalizing only sex workers violates of the spirit of equality embodied in the Constitution.
However, while the specific clause expires on Nov. 6, a revised law has yet to pass a legislative review.
Currently, there are three proposed amendments.
One proposed by the Executive Yuan would authorize local governments to create red light districts where prostitution is legal, but it would remain illegal outside such districts.
Another proposed by Democratic Progressive Party (DPP) Legislator Huang Sue-ying (黃淑英) seeks to penalize the client, but not the sex worker, while a third version proposed by Chinese Nationalist Party (KMT) Legislator Cheng Li-wun (鄭麗文) would decriminalize the sex trade for both the worker and the client if passed.
"The Executive Yuan's version of the amendment only makes the situation worse because it would penalize both the sex worker and the client outside of a designated area, which is to be decided by the local government," COSWAS executive director Chung Chun-chu (鍾君竺) said at the rally. "So when local governments refuse to create red light districts — which seems to be what would happen — it would be a de facto ban on prostitution."
After a rally outside the Executive Yuan, COSWAS representatives petitioned lawmakers from both the DPP and the KMT.
"Right now, we don't consider the Cabinet-proposed draft amendment our only option. We would first have to decide whether sex workers and clients should both be penalized, or if both should be exempt, before deciding whether to create red light districts," KMT caucus deputy secretary-general Pan Wei-kang (潘維剛) said after the meeting.
On the other hand, DPP caucus whip Tsai Huang-liang (蔡煌瑯) panned the Executive Yuan's proposal to create red light districts as "irresponsible," adding that the DPP caucus believed that sex workers should be protected.
Comments will be moderated. Keep comments relevant to the article. Remarks containing abusive and obscene language, personal attacks of any kind or promotion will be removed and the user banned. Final decision will be at the discretion of the Taipei Times.