Residents protest land seizures
UNFAIR: Many landowners with holdings in flat areas near the city are being told to relocate to more remote areas, while being given a portion of the cost of their land
Hundreds of residents and four local self-help associations in Greater Taichung protested against the expropriation of their land in front of the Greater Taichung Government building yesterday.
Residents from Wenshan (文山) in Nantun District (南屯), Jioshe (舊社) in Beitun District (北屯), Dali District (大里), and Shinan (溪南) in Wuri Township (烏日) are facing compulsory land expropriation for the creation of industrial zones and an expansion of the Taichung MRT depot.
The organizer of the rally, Wenshan Industrial District Paoshan Self-Help Association chairperson Huang Kuo-shu (黃國書), said the government planned to seize land, farmland and houses for a price equivalent to about one-fifth of their current market value.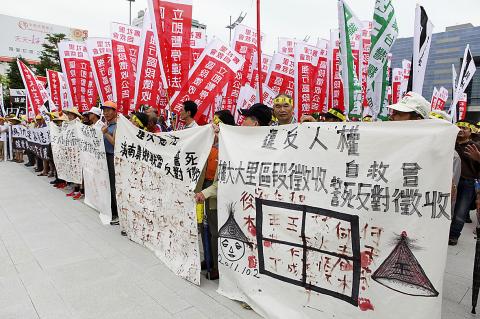 Members of four self-help associations protest against the expropriation of their land in front of Greater Taichung City Hall yesterday.
Photo: Chan Chao-yang, Taipei Times
The 193-hectare Wenshan Industrial District will leave farmers with no home and no jobs, Huang said.
People who own more than 1,620m2 of land are to be reimbursed with an equivalent plot of land at a separate location, while farmers are to receive about 40 percent of the size of their original land at another location, Huang said, as their original land, which is closer to the downtown area, would be seized by the government for a new residential zone, forcing them to relocate to more remote areas.
In addition, Huang said residents were worried that part of the industrial district would be designated as a Type A Industrial Zone, which could increase pollution in the area.
The government passed the responsibility of getting approval by the Environmental Protection Administration's Environmental Impact Assessment to individual landowners, he said.
Taichung MRT Depot Expansion Zone Expropriation Self-Help Association chairperson Chao Chun-an (趙俊安) said hundreds of households would be uprooted as a result of government plans to expand the depot zone from 19 hectares to 85 hectares.
Shinan Self-Help Association chairperson Chang Huan-chang (張煥昌) said more than 10,000 people living in the 500 hectare area faced land expropriation for industrial use.
It is unfair for illegally built factories to become legal after the area is redesignated as an industrial zone, while small farmers will have no way to make a living because they have no resources or ability to establish factories, Chang said, adding that some residents who relied on loans would have no way to pay them back if they were forced to abandon their farms and houses.
The groups urged the central government to respect the residents' rights to life and employment, as well as property protection as stipulated by the Constitution, and to amend the Land Expropriation Act (土地徵收條例) to avoid distortion of definitions of public benefit, which they say is often used as an excuse for land expropriation.
The groups also urged the city government to halt the land expropriation plans to protect agriculture in Taiwan, adding that food self-sufficiency and environmental protection are becoming increasingly important.
Comments will be moderated. Keep comments relevant to the article. Remarks containing abusive and obscene language, personal attacks of any kind or promotion will be removed and the user banned. Final decision will be at the discretion of the Taipei Times.