Ministry mum on HF-2Es on Penghu
ALTERNATIVES: Amid fears that US arms sales could dry up, Taiwan could explore 'more radical' solutions in the production and deployment of indigenous systems
Taiwan's military could deploy surface-to-surface missiles on the Penghu Islands as part of efforts to mount a more credible deterrent capability against China, budgetary documents submitted earlier this month say.
According to the documents, the Ministry of National Defense's Missile Command would deploy three missile squadrons at a fixed base on Penghu as part of a NT$2.5 billion (US$84.8 million) "Ji Zhun" (戟隼) plan for the acquisition of Hsiung Feng IIE (HF-2E) land attack cruise missiles. Part of the budget would reportedly be set aside for the construction of bunkers with dehumidifying systems to store the missiles.
President Ma Ying-jeou (馬英九) in 2008 gave the go-ahead for the production of 300 HF-2Es. The missile, developed by the Chung-Shan Institute of Science and Technology, was approved for full production earlier this year.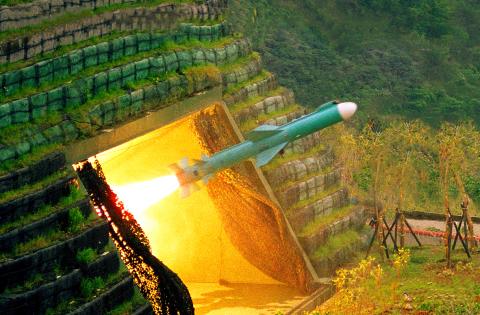 A Hsiung Feng II (HF-2) missile is launched during the Han Kuang 18 military exercises in 2002.
Photo: Military News Agency via CNA
The HF-2E can be fired from land-based emplacements as well as surface vessels. With an estimated range of 600km, the HF-2E brings some ports in southern China within range, which would now be extended by being deployed on Penghu, located in the middle of the Taiwan Strait.
HF-2Es have been spotted on naval vessels anchored at Penghu's Makung (馬公) and Tien Kung II surface-to-air missiles are deployed there.
Stating standard procedure on military deployments, a Ministry of National Defense spokesman yesterday would not comment on the report, which first appeared in the Chinese-language United Daily News on Wednesday last week.
The amount of money to be spent on indigenous defense programs next year is the highest since 2000, reflecting growing fears within the military of a possible scaling back of arms sales to Taiwan by the US.
According to a Defense News article on Monday, new development programs could include an anti-radiation unmanned aerial vehicle (UAV), a graphite bomb, an electromagnetic pulse weapon, a hypersonic vehicle testing capability, a long-range UAV, ship stealth technology and a catamaran-hulled ship.
A US-based defense analyst told the Taipei Times that insecurity stemming from perceived diminishing US support could spark Taiwan to adopt "more radical solutions," such as the deployment of offensive missiles like the HF-2E.
"Given China's increasingly formidable air defenses, using fixed wing air assets, such as F-5s or F-16s, to strike mainland targets has become increasingly costly. Therefore, investments in systems, such as the HF-2E, could be viewed as necessary to maintain a limited retaliation capability," the analyst said.
US policy has long denied Taiwan efforts to acquire air-launched weapons considered offensive, such as Joint Direct Attack Munitions and AGM-88 High-speed Anti-Radiation Missiles. The US Department of State has also repeatedly blocked, under the Missile Technology Control Regime (MTCR), attempts by Taiwan to acquire components that would help it extend the range and yield of its missiles.
"The State Department is the keeper of the MTCR and 'defensive weapons' flame of the Taiwan Relations Act," Rick Fisher, a senior fellow on Asian military affairs at the Washington-based International Assessment and Strategy Center, told the Taipei Times last week. "Absent a White House level of policy change, the US is not going to offer any leadership in this direction."
The first analyst said there seemed to be some inconsistencies in Washington's strict adherence to the MTCR when it comes to Taiwan.
"I don't see much complaining about China developing and fielding missile systems able to strike targets on Taiwan and throughout the region," he said.
Comments will be moderated. Keep comments relevant to the article. Remarks containing abusive and obscene language, personal attacks of any kind or promotion will be removed and the user banned. Final decision will be at the discretion of the Taipei Times.